Published On
Dehradoon: Woman forces pet dog to drink beer from bottle in disturbing video; FIR filed after outrage
The video was shared from an Instagram profile which goes by the username 'khush_arden, in which a woman was seen forcing beer down the throat of a puppy. Author :
Malkit Singh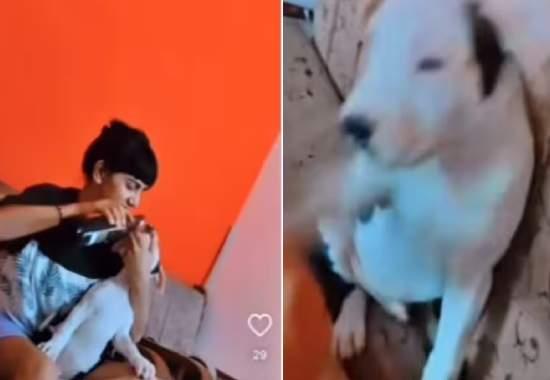 People on social media were left fuming and enraged after a video of a woman forcing her pet dog to drink beer from a bottle went viral. The video was shared from an Instagram profile which goes by the username 'khush_arden'. After the video was shared on social media, the woman was slammed for going too far just to get likes and shares on social media. Notably, alcohol is strictly prohibited for dogs as it may degrade their health and even lead to death in serious cases. After woman dog beer video went viral on social media, SSP Dehradun directed police to file a complaint against the woman. The SSP reportedly said that strict action would be taken against the woman.
In the case pertaining to the Woman dog beer bottle viral video, a separate report suggests that the woman in question lives in Dehradun's Race Course and works in a restaurant. As per Dora Animal Welfare, a youth-led animal welfare organisation which flagged the matter informed that the video was shot on August 11. Dora Animal Welfare was quoted by a portal saying, "We had been trying to contact the woman since last month, but she did not respond to our calls and messages. We warned her to apologise but she did not respond. We posted the video on our Instagram handle and tagged Dehradun police. Finally, on Tuesday, she met with us. She has since deleted the Insta account."
The dog who was seen with the woman is reportedly 'owned by one of the friends of the accused'. The Welfare spokesperson further added that "it could not be immediately ascertained if the alcohol had affected the pitbull's health in any way". It is pertinent to mention here that the he dog's owner has alleged that he was not present when the viral video was made 'by his friends'. Now, an FIR has been filed against the woman who was seen forcing beer down the throat of the puppy. To be precise, Dehradoon Police has registered an FIR at Nehru Colony police station under section 11 of the Prevention of Cruelty to Animals Act. An officer who is investigating the case informed that that an investigation officer will be sent to the woman to record her statement.
Watch Video
Also Read: UK Woman dies after losing 63Kg in a Year; Doctors puzzled over 'Cause of Death'
A video showing a girl forcing a pet dog to allegedly guzzle beer has sparked outrage among animal lovers. In the 15-second-long video of the incident, the three-month-old pitbull can be seen uncomfortable and resisting the girl's attempt to put a beer bottle directly into it's… pic.twitter.com/rM40mOVUWZ

— जनरल नरभक्षी 🏹 (@GDnarbhakshi) September 7, 2023