Published On
'Disaster & Heaven in one frame': Assam Flood affect over 55 lakh as Maha MLAs spend Rs 56 Lakh on Food
Assam Floods: The flood situation in Assam continued to remain grim on Friday as seven more people have lost their lives so far in this disaster.
Author :
Rohit Gupta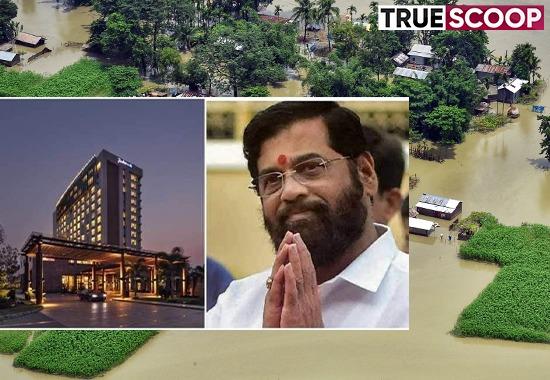 Assam Floods: The flood situation in Assam continued to remain grim on Friday as seven more people have lost their lives so far in this disaster. Chief Minister Himanta Vishwa Sarma has conducted an aerial survey of Silchar city badly affected by floods.
According to the bulletin of the Assam State Disaster Management, the number of people affected by the floods has decreased. Floods have affected 45.34 lakh people in 30 districts, while the number of flood-affected people in 32 districts stood at 54.5 lakh on Thursday. The state is working closely with the government to provide all possible assistance to deal with it.

The Prime Minister said, "Army and NDRF teams are present in the flood-affected areas. They are carrying out rescue operations and helping the affected people. The Air Force has carried out more than 250 flights as part of the rescue operation."
Meanwhile, today 108 people have died since mid-May, with two lives each in Cachar and Barpeta, and one each in Bajli, Dhubri and Tamulpur districts. Death is over. The Brahmaputra and Barak rivers and their tributaries are in spate in most of the affected districts. However, the flood water has receded in some places. Officials said that the death toll due to floods in the state in mid-May has now risen to 108.
CM said- More troops will arrive to help the people. After conducting an aerial survey, the Chief Minister reviewed the flood situation in the Barak Valley area and announced that more troops would be sent to Silchar to rescue the people trapped in the floods. He told reporters outside the Deputy Commissioner's office after the review meeting at Silchar in Cachar district, "NDRF, SDRF, Army, other agencies are carrying out rescue operations. But more troops will arrive tomorrow to rescue the trapped people.
He did not say how many troops of the army would be deployed for this work, which was declared a week ago due to the floods. Three districts of Barak Valley, Cachar, Karimganj and Hailakandi are severely flooded. The Barak and Kushiyara rivers are flowing above the danger mark, affecting more than six lakh people. Officials said that the situation in Barpeta is the worst where 10,32,561 people have been affected by the floods.

4,29,166 people have been affected in Kamrup, 4,29,166 in Nagaon, and 3,99,945 in Dhubri. Meanwhile, summer vacations have been declared a week in advance in schools in the state due to floods. Education Department Secretary Bharat Bhushan Dev Choudhary said in a notification that the holidays would be from June 25 to July 25. Earlier, the period from July 1 to July 31 was fixed for this.
Flood is Affecting Assam and on the other side Maha MLAs spending time in Luxury Hotel
Radisson Blu, a luxury hotel located on National Highway 37 on the outskirts of Assam's main city, has caught everyone's attention ever since rebel Shiv Sena leader Eknath Shinde and 36 party MLAs and nine independents arrived there. This posed a potential threat to the Maha Vikas Aghadi government of Maharashtra. On Monday evening this week, rebel Shiv Sena MLAs led by Shinde checked in at a hotel in Surat, a city in Bharatiya Janata Party-ruled Gujarat.
From here he went to Guwahati in Assam on Wednesday morning. On reaching the Gopinath Bordoloi International Airport in Guwahati, the rebel MLAs were taken to Radisson Blu Hotel by police in three luxury buses operated by the Assam State Transport Corporation.
According to the reports are suggesting that 70 rooms have been booked in the luxury hotel for Rs 56 lakh. The hotel has a large venue, a pool, a spa and five restaurants. In addition, food and other services are estimated to cost Rs 8 lakh per day (Rs 56 lakh for seven days). The entire cost of a seven-day stay is Rs 1.12 crore. To show his strength, Shinde on Thursday posted videos and pictures with 41 MLAs of the hotel, creating more trouble for Maharashtra Chief Minister Uddhav Thackeray.
Images showed rebel MLAs shouting slogans for Shiv Sena, Balasaheb Thackeray and Eknath Shinde in a hall. In the video, Shinde can be seen addressing a group of rebel Shiv Sena MLAs at a hotel in Guwahati. "Our concerns and happiness are the same. We are united and victory will be ours. There is one national party, one superpower... you know they defeated Pakistan. That party has said that we have taken a historic decision and to provide assured of".