Published On
Elon Musk takes a dig at Biden as he puts efforts to free Brittney Griner
Brittney Griner was found guilty of smuggling drugs into Russia
Author :
Guneet kaur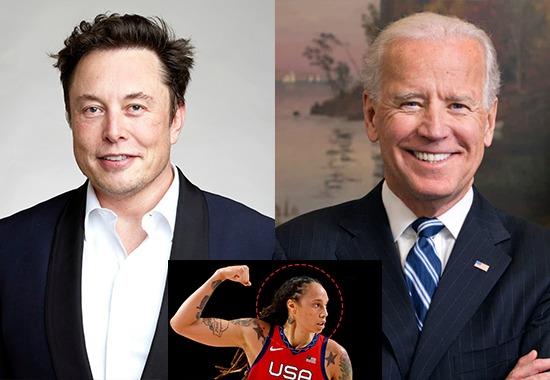 Elon Musk always finds a way to remain in the headlines. This time he has interfered in the federal government's efforts to free the WNBA player Britney Grinner from the captivity of Russia.
He taunted the US President, Joe Biden by saying that the administration should free everyone imprisoned for weed offence in the United States as well. He said this on an episode of Full Send Podcast.
The WNBA Player, Brittney Griner was found guilty of smuggling drugs into Russia as she accidentally left a marijuana pen in her bag when she came to the country in February. After which she was sentenced to nine years of imprisonment.
Later on, she appealed to Joe Biden for help in the case. Her letter was delivered to the White House through her representatives.
The WNBA acknowledged star feared never returning home and said to the President, "forget about me and the other American Detainees."
When the press secretary was questioned time and again on this issue, she said that the President has read her letter and it is very personal to him.
US President, Joe Biden later stated that he diligently and will put his blood, sweat and tears to bring her and Paul Whelan back home.
In response to this statement, Elon Musk took a dig at Biden saying, "If the president is working so hard to free someone who is in jail in Russia for some weed, shouldn't we free people in America?"