Europe has to get out of its present mindset that its problems are problems of the world but not vice versa: Jaishankar
GLOBSEC is a non-partisan, non-governmental organisation based in Bratislava, Slovakia. One of its main activities is the annual GLOBSEC Bratislava Global Security Forum, in existence since 2005. Other projects include the Tatra Summit conference on European affairs or Chateau Béla Central European Strategic Forum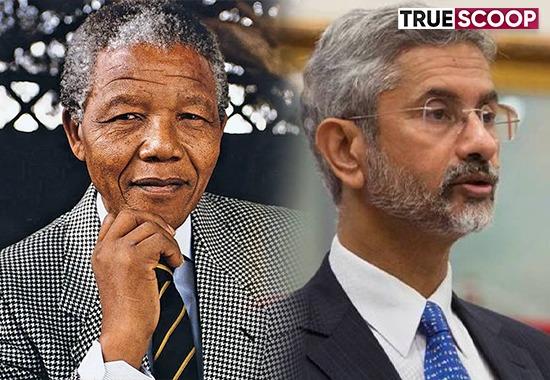 -

External Affairs Minister S Jaishankar is batting on the front-foot these days. He has mastered in turning the arrows of Western media towards them. Jaishankar exposed the host's agenda during GLOBESEC in Bratislava, the capital of Slovakia. Jaishankar used his long experience of diplomacy to answer the host.




The External Affairs Minister drew inspiration from former South African President Nelson Mandela. Mandela had said a line in response to a journalist's question on a tour of America about 32 years ago.

Mandela said, 'One mistake the outside world makes is that they think their enemies must be our enemies.' Jaishankar showed the mirror to the host advocating for Europe on similar lines. Jaishankar said, 'Europe has to get out of the mindset that its problems are the problems of the whole world but the problem of the world is not the problem of Europe.'



The host had said that if India's problems with China escalate, then India's stand on Ukraine may make it difficult to get global support. On this Jaishankar repeated Mandela's words in his own words. Jaishankar said that there is no need for India to choose any one side, the world does not run like this.

What did Mandela say 32 years ago?

In June 1990, Mandela visited America. Mandela had previously praised leaders such as Yasser Arafat, Muammar Gaddafi, and Fidel Castro for supporting South Africa's fight for the rights of blacks. On this basis, American journalists then questioned him whether these three leaders were ideals of human rights and whether they would like all three to become presidents of their respective countries. What Mandela said in response is one of his most famous statements. Mandela said, 'One mistake that some political analysts make is that they assume that their enemies must be our enemies.'

Jaishankar repeated the same thing in the context of Europe
In GLOBESEC, Jaishankar was asked about China. The host was asking that India is having issues with China, if the situation worsens, does she think that the world will support her, especially when this is your stand on the Ukraine issue. Jaishankar said that China does not need an example from anywhere else on how to include or not to include us or be uncomfortable with or not be uncomfortable with us. Jaishankar's remarks come at a time when European countries are constantly trying to persuade India to take a tough stand against Russia over the attack on Ukraine.





Europe argues that India may face similar challenges from China in the future. Jaishankar clearly said that "the idea that I should join one struggle because it will help me in another struggle... this is not how the world works."