Published On
Fact Check: SC forming All-India organization of taxpayers to examine freebies by political parties? Here's the reality
The claims came at a time when the Supreme Court of India is hearing a PIL that challenged the practice of political parties promising freebies during elections
Author :
Ujjwal Samrat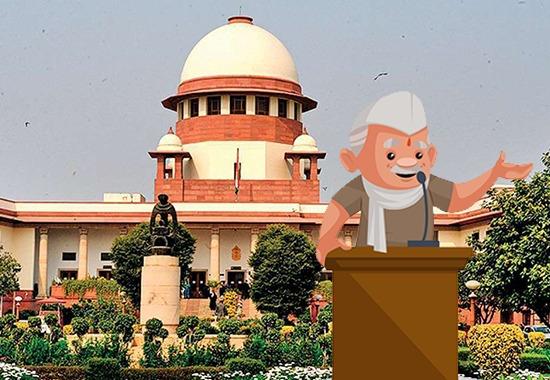 Social media is on buzz after it has been reported that India is forming the largest organisation of taxpayers in the world on the recommendation of the Supreme Court of India. It has been reported that the SC-formed panel will work as a watchdog and without its approval, no promise of free electricity, free water, free distribution, or loan waivers can be announced by any government. The claims came at a time when the Supreme Court of India is hearing a PIL that challenged the practice of political parties promising freebies during elections. Now, the question arises whether the Supreme Court is actually forming a taxpayers' group?
The answer is no. Although the Supreme Court recently recommended a committee comprising several stakeholders that would look into the matters related to freebies announced by political parties during elections, however, the apex court is yet to mention the powers and limitations of such a committee. A bench of the Apex Court suggested a committee comprising different stakeholders that would suggest measures to tackle the issue.
Furthermore, no official reports have come that the SC proposed panel will be called or referred an all-India organization of taxpayers. Hence, the claim of SC forming an all-India organisation of taxpayers is not true. It is pertinent to mention here that the apex judicial body has recommended a committee that will advise on issues related to election freebies, it has not yet been mentioned that election freebies can't be implemented without the approval of such a committee.
Here's what the SC Order copy says, "Keeping in mind the prayers made in these petitions which relate the distribution of freebies by political parties, we are of the considered view that it would be appropriate to constitute an expert body with representatives of all the stakeholders: the beneficiaries, those opposing freebies, Central Government, State Government, opposition parties, Finance Commission, Reserve Bank of India, NITI Aayog, etc, to name a few, to take a holistic and comprehensive view of the matter and making their recommendations."
Fact Check: Did AAP photoshop New York Times coverpage? Here's the reality
National Herald quoted Supreme Court's Senior Advocate Sanjay Hegde saying, "There is only a committee that is being formed. No report has come yet. The issue of jurisdiction will arise only if the apex court decides to act on the recommendations of the committee. As of now, it seems like it will be a burial by committee."