Published On
Famous Punjabi Singer, Gurnam Bhullar falls off the stage during live show, watch viral video
Somehow, he was lucky enough not to become a victim of a major accident as he did not get much hurt.
Author :
Guneet kaur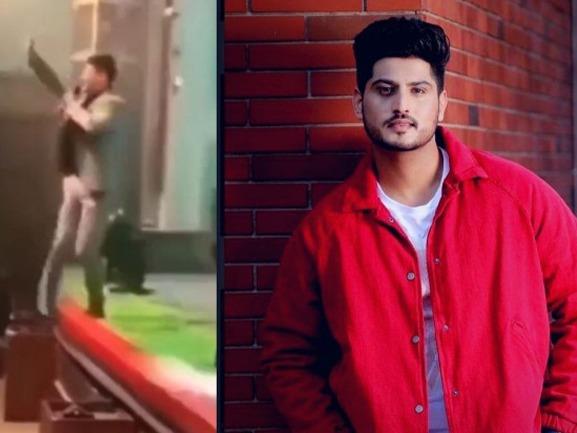 Punjabi singers always make up for the headlines in some or the other way. It can be their singing skills, fun banter, or the accidents that take place when they perform live for their lovable audience.
A video of famous Punjabi Singer, Gurnam Bhullar is coming to the fore on various social media platforms where he can be seen losing his balance as he performs during a live show. This is not the first time that any incident like this has happened. Often during live performances, artists tend to lose their balance due to some obstruction or disturbance that takes place on the stage.
The video that has been doing rounds, shows singer, Gurnam Bhullar so engrossed in his live show that he did not even notice that the platform of the stage has ended and went on moving ahead, due to which he lost balance and fell off the stage. Somehow, he was lucky enough not to become a victim of a major accident as he did not get much hurt.
If the incident has to be explained in detail, it can be seen that Punjabi singer Gurnam Bhullar is performing in a concert. As he moves toward the stage while performing, his foot twists on the stage and due to the loss of balance, he falls down the stage. After which all the people present there were shocked and ran towards him to help. Post this, it can be seen in the video that the singer, who fell carelessly during the performance, gets up back again and returns to the stage to perform again.
Seeing this video, many reactions are coming from the fans. Many fans of the singer are expressing concern about whether Gurnam Bhullar is fine or not.
Famous Punjabi SInger, Gurnam Bhullar falls off the stage during live show, watch viral video#ViralVideo #gurnaambhullar #punjab #punjabisinger #truescoop #truescoopnews pic.twitter.com/uEFqTWaZIP

— True Scoop (@TrueScoopNews) September 17, 2022
Earlier, a similar accident happened with Diljit Dosanjh. During one lie, Diljit fell on the stage due to a balance problem. Once, when the singer Master Salim was performing in a show, the entire stage only came down.