Published On
Fans wonder about Kajol's sister, Tanisha's secret marriage, as the actress was seen in a beech
Tanisha Mukherjee, Kajol's sister, is making headlines once again. Tanisha, in fact, has lately uploaded some images on social media over which she has been embroiled in a debate.
Author :
Anmolika Saxena
Mumbai Tanisha Mukherjee, Kajol's sister (Kajol Sister Tanisha Mukerji secret marriage), isn't extremely active on social media, but her followers pay attention anytime she shares images or videos. Tanisha Mukherjee's images have now become a source of debate among her followers. Netizens believe the actress married quietly and didn't tell anybody about it.
Tanisha has posted a few photos on Instagram. In a photograph, his feet may be seen. Tanisha is clearly sporting a net in her toes as seen by the picture. Toe rings are exclusively worn by married women in India, according to custom. In such a case, admirers believe that the actress has secretly married.
Tanisha was photographed wearing a beech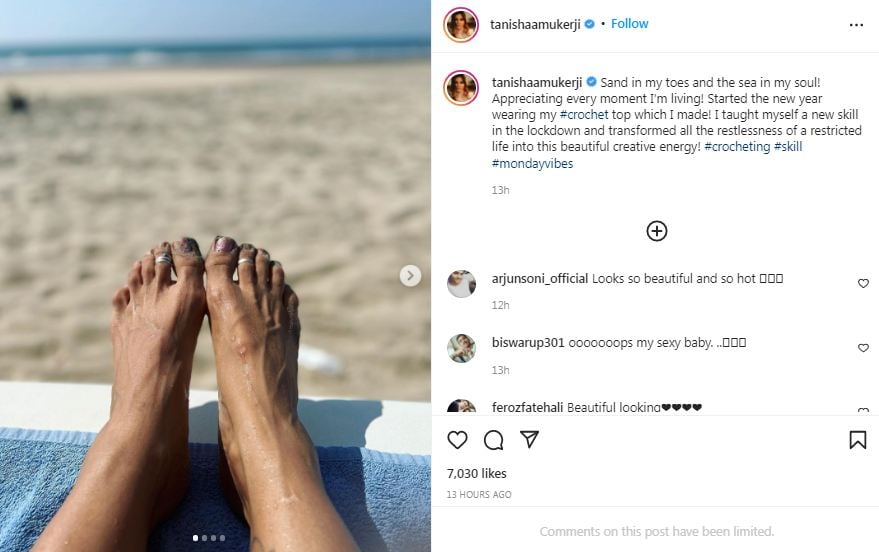 Tanisha's post has gotten a lot of attention from fans who are startled to see her wearing a net. Fans of the actress are speculating about her marriage while appreciating her appearance and feet. Let us inform you that Tanisha has appeared in a number of films.
Tanisha Mukherjee rose to fame after appearing on 'Bigg Boss.'
Tanisha is enjoying her life to the fullest
Tanisha captioned four photographs on Instagram with, "The sand in my toes and the sea in my spirit!" 'I am savoring each and every minute, and I am living it!' The actress also discusses her stitching and weaving skills.
Tanisha has been in a number of films
Tanisha was most recently seen in the December release 'Code Name Abdul.' With the reality programme 'Bigg Boss,' she got pretty famous. She has shown her strength in films such as 'Sarkar,' 'Sarkar Raj,' 'Tango Charlie,' and 'Neil and Nikki.'