FIFA WC 2022: Neymar steps out with Sikh boy for national anthem in BRA vs SER match; Video Viral
The Sikh boy grabbed headlines in India and around when Neymar Jr. walked out of the dugout with him.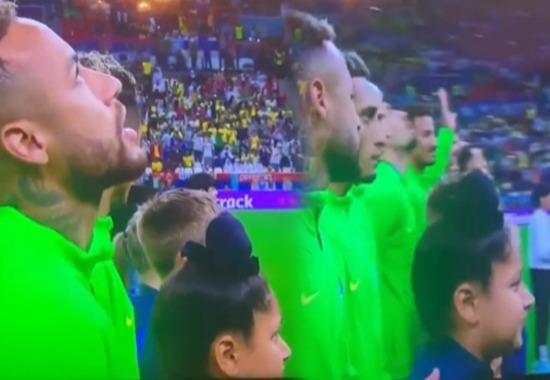 -

Five-time FIFA World Cup champions Brazil kicked off their Qatar campaign with a 2-0 win over Serbia at Lusail Stadium on Thursday. Courtesy of Richarlison's double, Brazil started with a victory. However, it was a Sikh boy who stole the limelight when he was seen with Brazilian captain Neymar. The Sikh boy grabbed headlines in India and around when Neymar Jr. walked out of the dugout with him. Not only this, but the boy also stood by the 30-year-old footballer during the BRA vs SER national anthem. Following this, Neymar Sikh boy video went viral on social media.

In the short video that was uploaded on Instagram, you can see the young Sikh boy standing in front of Neymar. As the announcements go on, Neymar keeps his hands on the boy's shoulder and stands. As per reports, the boy's name is Josh Singh.

Watch Neymar Sikh Boy viral video

Jasprit Bumrah opts for Sidhu Moose Wala's song to provide health update; Shares videopic.twitter.com/afr852Lhh7November 24, 2022pic.twitter.com/afr852Lhh7November 24, 2022
SINGH !! Neymarrrrr pic.twitter.com/afr852Lhh7

— Ryan Singh (@rajan_stokes) November 24, 2022
Brazil vs Serbia
Coming to Brazil vs Serbia, the Five-time champion announced their arrival in style as they defeated Serbia to go top of Group G in the ongoing FIFA World Cup 2022 at the Lusail Stadium, Lusail, Qatar on November 24. Richarlison scored two goals in the space of nine minutes as Brazil overpowered Serbia in the second half to clinch victory by 2-0 in the Group G game. Huge crowds of fans at the Lusail Stadium celebrated the Brazil team's victory in their opening World Cup game. Fans are hopeful that Brazil will bring home their FIFA World Cup trophy for the sixth time. During the match, Neymar suffered an injury and limped off with a swollen ankle during the match. However, Brazil head coach Tite said Neymar should be fine to continue in the World Cup despite the injury.