Published On
#FirstStoryPositive: Know how a one-woman-army is trying to make Jalandhar eco-friendly
Meenal Verma has taken some ingenious actions towards making her lifestyle as environmentally friendly as possible
Author :
Guneet kaur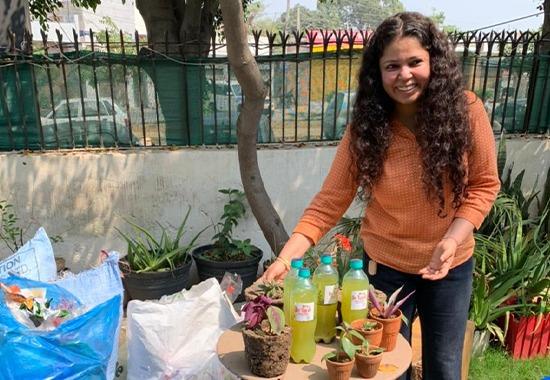 Meenal Verma has taken some ingenious actions towards making her lifestyle as environmentally friendly as possible
Many people in this society work toward the welfare of society and people without expecting anything in return.
One such person is Meenal Verma, an architect by profession and nature lover by passion. Her boundless love for nature allows her to do many things to safeguard the environment.
Two years back, a mission was launched by the Ministry of Jal Shakti named 'Catch the Rain' which urges people to collect rainwater and use it for other purposes. She strong advocated this campaign by telling people about water conservation through drum harvesting and also informed them how the storm and rainwater can be recycled. Not only this, she has also got many rainwater harvesting tanks constructed at different places. To recognize her activities, she was also awarded the title of 'Water Hero.'
Meenal also does many campaigns and drives related to waste management. She further added that her house is a zero-waste house which means that she channelizes all the house waste in a way that it becomes useful for other purposes. She uses her kitchen waste to make cleaners which she later puts in different water bodies to make it clean. She also gives away these cleaners to other people free of cost to spread her mission of conserving the environment.
Her team also carries out dry waste collection drives which urge people to give their dry waste to them and further they channel it to turn it into a resource.
Throwing some light on the single-use plastic ban, she revealed that she carries her containers, bags, bottles, and steel straws so that she doesn't have to use the plastic-made stuff which shows that she is one to pray for what she preaches.
She also makes eco-friendly rakhis and bags and sells them to people for use free of cost.
Wrapping up her talk with True Scoop, she asked every person that if they want to do something for the environment and climate, they should start doing it themselves first. Instead of telling people what to do, show them how to do it.