Published On
#FirstStoryPositive: Sindhutai, mother to 1400 orphans is no less than a 'Godmother'
A Marathi film "Mee Sindhutai Sapkal" was based on her in 2010.
Author :
Priyal Mahajan
Today, no one cares for their own blood and are selfish but still, there are some people who are rare, unique and always leave an imprint on the heart of people. This is a story of a woman who begs happily not for her own sake but for orphans.

India is a country which has the largest population in the world, in which the most of the people are children. Unfortunately, many of the children are orphans and abandoned are forced to live in poverty and dismay.

One of the children among such children was Sindhutai Sapkal who was born on 14th November 1948 in Sindhutai. She was born in a family which by profession did cattle grazing; she always was made to feel unwanted and unnecessary. People called her 'Chindi', which means a torn cloth but this didn't ever affect the omnipresent behaviour of Sindhuti towards learning.

Her father wanted to educate her but this opinion was opposed by her own mother because of which she was only able to complete her education till Class 4th and at the age of 10 years, she got married to a man that was triple her age i.e. 30 years.

Her hope was so strong that even the burden of child marriage didn't break her! She always had a passion to help the needy and poor people. Unaware of the harsh impact her actions would cause, after getting married, she strongly opposed the exploitation of village women, who collected cow dung, by the Forest department and the Landlords in 1972.

During her pregnancy, a nasty rumor was spread by an angry landlord caused people including her husband to abandon her. Beaten, gave birth to her daughter, Mamta on 14th October 1973 in a cowshed. Facing so much she went to her maternal home but there also she was disowned by her mother.

Feeling lost and betrayed, Sindhutai started singing and begging on the streets so that she could make ends meet. She continued to fight for herself and her daughter's existence and considered train stations, cowsheds and cemeteries her home.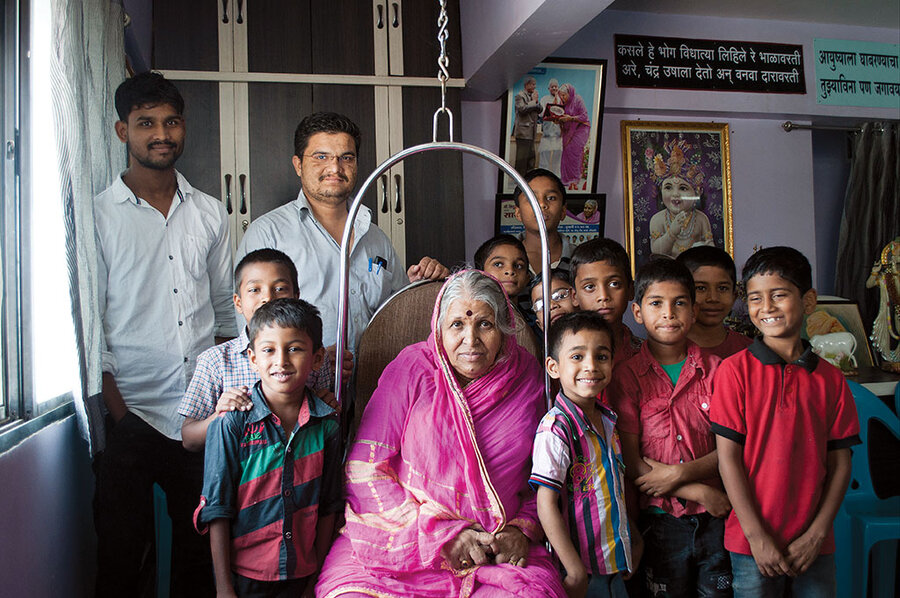 In a district in Maharashtra, a tiger preservation project was started due to which, tribal villages were evacuated, cows were impounded and one of the cows died. Sindhutai decided to fight for providing proper rehabilitation to the needy tribal villagers. Her efforts were acknowledged by the Minister of Forests and he made proper arrangements for relocation.

During this period, she came across many orphans and women who were neglected by society. Having faced so much in her life she decided to adopt the orphans, worked and begged to feed them. To concentrate fully on this, she had to send her own daughter to a trust in Pune.


Also Read: #FirstStoryPositive: Meet 'Soccer Sangeetha'- A Homeless Girl Living on Streets, Now Playing For India Abroad
After years of effortless hard work, she became capable to open her first Ashram at Chikaldara. She travelled to villages and cities to raise money for her Ashrams. A lot of times she even had to fight for the next meal due to lack of funds. But she never stopped. Till now, she has nurtured over 1400 orphaned children. They call her 'Maai'. Many of her children are now successful lawyers and doctors. Now her biological daughter and the adopted children are running orphanages of their own.

Sindhutai Sapkal has received around 270 awards from various national and international organizations. A Marathi film "Mee Sindhutai Sapkal" was based on her in 2010. She has founded numerous organizations across Maharashtra and provided education and shelter to thousands of orphans. Even today, this 72-year-old woman Sindhutai works relentlessly for her 1400 children.