Published On
Florence Pugh and Zach Braff are no longer together, reveals actress about break up earlier this year
The 26-year-old actress while talking to the US media revealed the duo decided to end the low-profile relationship they had since the beginning of earlier this year
Author :
Tushar Singh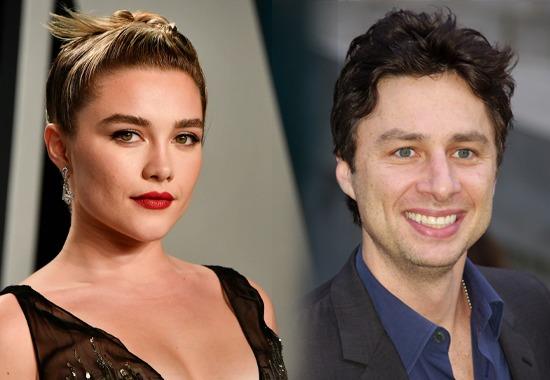 Actress Florence Pugh opened up about her break up with Zach Braff after being three years together.
The 26-year-old actress while talking to the US media revealed the duo decided to end the low-profile relationship they had since the beginning of earlier this year.
"We've been trying to do this separation without the world knowing because it's been a relationship that everybody has an opinion on," she said. "We just felt something like this would really do us the benefit of not having millions of people telling us how happy they are that we're not together. So we've done that. I automatically get a lumpy throat when I talk about it."
The 'Black Widow' star made an exclusive statement about the kind of coverage she received over the years due to the relationship she had with 21 year elder Braff.
"Whenever I feel like that line has been crossed in my life, whether it's paparazzi taking private moments, or moments that aren't even real, or gossip channels that encourage members of the public to share private moments of famous people walking down the street, I think it's incredibly wrong," Pugh said.
"I don't think that people, just because they have this job, that every aspect of their life should be watched and written about. We haven't signed up for a reality TV show," she continued.
One of such instance happened in 2020 when Pugh was compelled to defend her romance with Braff after a series of negative comments she started to receive after posting a picture on Instagram wishing the actor on his 45th birthday. In a three-minute video that she uploaded the actor said, "I do not need you to tell me who I should and should not love," she said.
"And I would never in my life, ever, ever, tell anyone who they can and cannot love. It is not your place, and really, has nothing to do with you."
Pugh said this sort of behavior has disturbed her workspace and personal life as well. "We need to be supporting one another, we need to be loving one another, the world is aching and the world is dying — a few of you decided to bully for no reason."
Speaking to the media, Pugh shared her excitement for the release of one of her upcoming films is top notch "A Good Person," which her ex-boyfriend Braff wrote the script for release in March 2023.
Pugh talked in length about her professional experience with the actor saying the movie that the couple made together genuinely was one of her favorites experience.
She also revealed her thoughts on fascinating the sex scenes in "Don't Worry Darling," a movie that she stars in alongside Harry Styles, set to release next month.