Published On
Former CM Parkash Singh Badal's taunt on Bhagwant Mann; says Corruption does not end with the words of anyone
After the announcement of the helpline number by CM Bhagwant Mann, Former Punjab CM Parkash Singh Badal gave a strong response to it Author :
Samriti Bharadwaj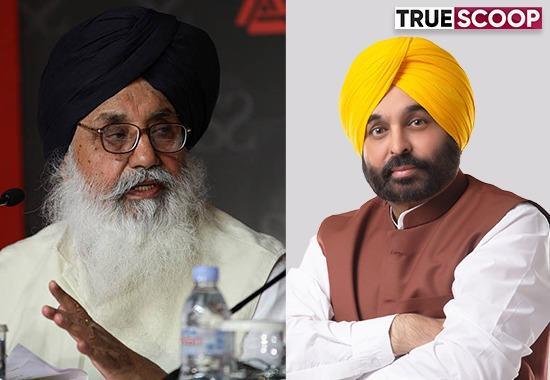 CM Mann paid tribute to Shaheed Bhagat Singh, Rajguru, and Sukhdev by visiting Hussainiwala Memorial and Khatkar Kalan on their death anniversary. He has issued an anti-corruption helpline number on Wednesday. On the issued Whatsapp number 9501200200 the complaints can be filed in the form of audio-video messages.

After the announcement, Former CM Parkash Singh Badal has given a response over the helpline number. He said that corruption is in the roots of Punjab, it cannot end with the words of anyone. Every party who reigns says the same.

He also mentioned the Ex-CM Captain Amrinder Singh, said, Captain also said that in a week. I'll end corruption and drug addiction in the state.

Also read: Cabinet ministers Lal Chand Kataruchak & Laljit Singh Bhullar pay tribute to martyrs

Parkash Singh Badal has been the CM of Punjab for five years. He won the assembly elections 10 times. During the Punjab Assembly Elections 2022, Parkash Singh Badal was defeated by Gurmeet Khudiyan of the Aam Aadmi Party. Despite the defeat, Badal is visiting his supporters in the villages and thanking them for their support.

Badal also said that there should be no raw employees in the government. The raw employees are also doing the same job as the permanent ones so they should be given equal rights also. He said that Bhagwant Mann has promised to ensure 35,000 employees, but it has to be seen what happens.