Published On
Fresno, US: Father-Son duo from Kapurthala going to party after getting medicine degree dies in road accident
Kulwinder Singh Hanspal was living in America with his wife and son for the last 15 years and his son Sukhwinder got degree in medicine for which the family was going to party when the accident took place. Author :
Malkit Singh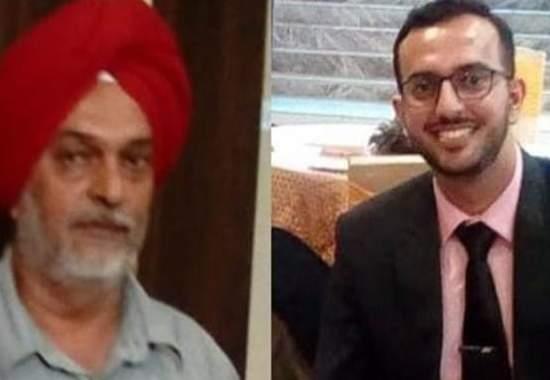 By ASHISHPURI
In a disheartening incident, a young doctor (son) and his father, who is an advocate by profession died in the US city of Fresno. The son was going to a party with his family after getting a degree in medicine. Both the son and his Father died in a road accident while the doctor's mother was seriously injured. The deceased have been identified as advocate Kulwinder Singh Hanspal (father) and his son Sukhwinder Singh of village Boparai in Bhulath area of ​​Kapurthala. The mother has been identified as Balbir Kaur who has been seriously injured in the accident.
Divulging more information in the incident, Kulwinder Singh Hanspal's brother Harjinder Singh resident of village Boparai said that his brother was living in America with his wife and son for the last 15 years. On May 10, Kulwinder Singh, along with his son Sukhwinder Singh and wife Balveer Kaur, were going to a party in their car to celebrate the completion of their son's degree as a doctor, when another car's tyre burst on the way came from other side and collided with their car .
After the tyre burst collided with the car, its balance deteriorated and the vehicle overturned. Due to the overturning, his son Sukhwinder Singh died on the spot, while Kulwinder Singh was taken to the hospital where he died after 2 days. Harjinder Singh said that Balbir Kaur was seriously injured in this road accident and is still admitted in the hospital at USA.
Distracted driver kills Sikh couple on way to pick up kids in US
After hearing this incident Village Numberdar Harvinder Singh, Rachpal Singh former Sarpanch, Advocate Kulwant Singh Sehgal, Advocate Parvinder Singh, Advocate Sukhwinder Singh etc. have condoled the death of Advocate Kulwinder Singh Hanspal and his son in this accident.
By ASHISHPURI