Published On
Explained: Gautam Adani Group's 493-crore open offer for NDTV for an additional 26% stake
If this open offer is fully subscribed, Adani Group's total stake in NDTV will increase to 55.18%, this would simply mean that Adani Group would be in control of the board of NDTV
Author :
Tushar Singh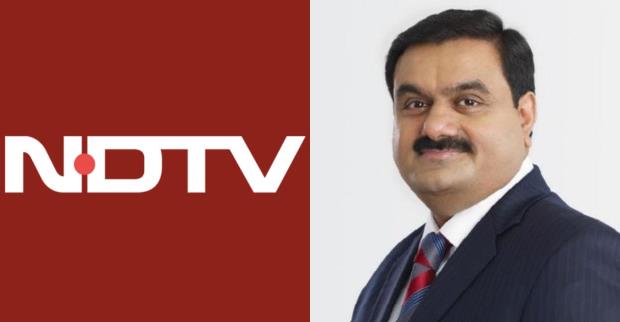 Adani Group's open offer to acquire an additional 26% stake in media firm New Delhi Television (NDTV) from the market is opening today i.e. Tuesday. Market regulator Securities Exchange Board of India (SEBI) approved this open offer on 7 November.
A price band of Rs 294 per share has been fixed for the offer, said a notice from JM Financial, the firm managing the offer on behalf of Adani Group firms, which will open on 22 November and will be closing on 5 December, the entire worth of this offer is Rs 492.81 crore.
If this open offer is fully subscribed, Adani Group's total stake in NDTV will increase to 55.18%. This would simply mean that Adani Group would be in control of the board of NDTV.
On 23 August, Adani Group acquired a 29.18% stake in NDTV through the acquisition of VCPL, which holds a 99.99% stake in RRPR Holding. Following this, Adani Group firms - Vishwapradhan Commercial Private Limited (VCPL) along with AMG Media Networks and Adani Enterprises have proposed to acquire an additional 26%.
After the announcement of acquiring a 29.18% stake in NDTV, NDTV had said that the deal cannot go ahead without SEBI's nod. He said that in an order passed on 27 November 2020, SEBI had banned the founders of NDTV - Radhika and Prannoy Roy from the securities market for 2 years, which will be ending on the 26th of November 2022.
However, the Adani Group rubbished NDTV's claim. He said the promoter unit RRPR Holding is not part of the regulator's order barring founder promoters Prannoy and Radhika Roy from trading in the securities market. VCPL had said that RRPR is not a party to the SEBI order dated November 27, 2020, and the restrictions do not apply to it.
Understanding this deal through these 5 simple points:
• RRPR Holding is the promoter company of NDTV. Vishwapradhan Commercial Private Limited (VCPL) is a subsidiary of AMG Media Network Limited (AMNL), while AMNL is a subsidiary of Adani Enterprises Limited (AEL), which is the flagship company of the Adani Group and the control of VCPL is vested upon with the Adani Enterprises.
'Enormous tragedy': SC asks Guj HC to hold periodical hearings in Morbi bridge collapse
• The promoter company of NDTV, RRPR Holding Pvt Ltd (Radhika Roy Prannoy Roy Pvt Ltd) had taken a corporate loan of Rs 403.85 crore from VCPL in the year 2009-10 to repay other loans. In lieu of this loan, VCPL got RRPR warrants and as per the basic laid down, rules warrants can be converted into shares based on the agreement.
• Under this authority, VCPL issued a notice on August 23 for the conversion of 1,990,000 warrants into 1,990,000 shares. As per the terms of the warrant exercise, RRPR was to allot shares to VCPL within 2 days of notice i.e. by August 25. However, NDTV expressed its inability, citing the SEBI's order of 2020.
• Since RRPR is the promoter of NDTV and holds a 29.18% stake (18,813,928 shares) in NDTV, Adani Group has indirectly got a 29.18% stake in NDTV. According to SEBI rules, whenever a company acquires more than 25% shares of another company, it has to make an open offer.
• AMNL and Adani Enterprises have made an open offer for additional 16,762,530 shares of NDTV. The open offer price of the shares is Rs 294. Right now, the share price of NDTV is around Rs.364. Is. On August 23, when Adani Group informed about the takeover through the media, the share price then stood at Rs. 376.