Published On
Ground Report: Rahul Gandhi's Bharat Jodo Yatra gets mixed reaction from Jalandhar locals, watch
Rahul Gandhi's Bharat Jodo Yatra started from Khalsa College at around 3pm and ended at 6:30 pm near Hemkund Public School. Author :
Guneet kaur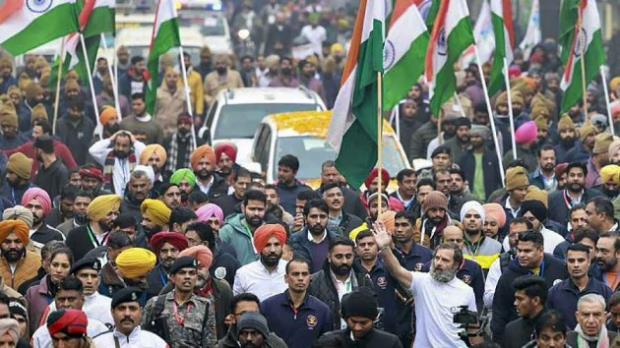 Rahul Gandhi's Bharat Jodo Yatra reached Jalandhar on 15th January 2023 at 3 pm. The Congress leader resumed his journey from Khalsa College which was on a one-day halt after Cong Jalandhar MP Santokh Singh Chaudhary's demise. During the yatra famous Punjabi singer Sidhu Moosewala's father also joined Rahul Gandhi. Apart from Balkaur Singh, Amarinder Singh Raja Warring, former CM Charanjit Singh Channi and MLA Pargat Singh were also present during the Bharat Jodo yatra in Jalandhar.
People in large numbers were present to have a glimpse of Congress leader Rahul Gandhi during the visit. Many of them while interacting with True Scoop expresses their opinion and Rahul Gandhi's Bharat Jodo Yatra. While many stated that it was a great initiative, some were upset with the amount of inconvenience the yatra led to for locals.
A person stated that Bharat Jodo Yatra in Jalandhar has caused a great level of inconvenience for the locals. He added that roads have been closed and routes diverted which has led people to follow the long route to reach their destinations.
Another person stated that this is a great initiative taken by Rahul Gandhi. She said, "the aim with which this yatra has started will bring a real change in the society. This party is bringing up the issues like unemployment, poverty, etc that are never addressed seriously by any other political party."
A woman who was present there to witness the yatra expressed her disappointment regarding the inconvenience it was causing. She said, "instead of Bharat Jodo Yatra, it seems like Bharat Todo Yatra is going on because of the way people are being hurt and pushed by security personnel."
A group of youngsters was also present during the yatra and stated "it's a great initiative by Rahul Gandhi. At least there is a party who still believes to raise issues like unemployment, corruption, and poverty that are of real concern."
Rahul Gandhi's Bharat Jodo Yatra ended at around 6:30 pm near Hemkund Public School. He completed a 16-km-long journey starting from Khalsa College.
Watch Video