Gujarat Diamond Merchant's 9-year-old daughter embraces monkhood: See Pics
Devanshi had an inclination towards spiritual life since a very young age and even walked near about 700 KM with other monks with whom she was inspired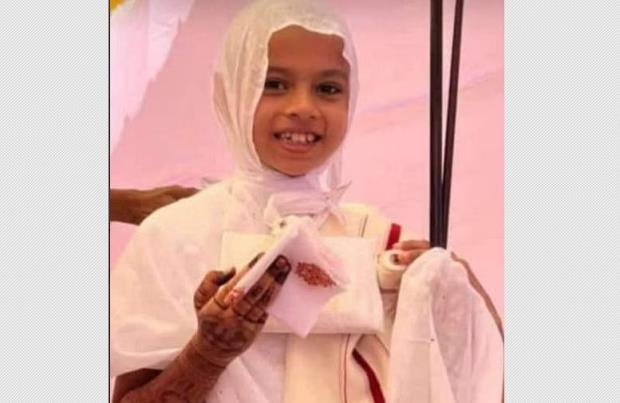 -

A nine-year-old daughter of a diamond merchant became a monk in Gujarat renouncing all the materialistic comforts earlier today. Devanshi, the eldest of the two daughters of Dhanesh and Ami Sanghvi, took 'Diksha' in the presence of Jain monk Acharya Vijay Kirtiyashsuri and hundreds of other people at a venue in Vesu locality of Surat, a family associate said.

Her father owns Sanghvi and Sons, a nearly three-decade-old diamond polishing and export firm in Surat. The famous IG page maintained by the renowned photojournalist by the name Viral Bhayani shared pictures of Devanshi, with the caption, "A nine-year-old daughter of a wealthy diamond merchant embraced monkhood in Gujarat on Wednesday, renouncing material comforts. She will now shun all the material comforts and luxury, that her family of diamond merchants could have provided her."
She won't be in touch or will have the possession of any material comforts including, cars, luxury holdings, or anything that her family owns.
WhatsApp rolling out voice status updates on Android beta
Devanshi had an inclination towards spiritual life since a very young age and even walked near about 700 KM with other monks from whom she got inspired to take up this whole new route in life. She knows five languages and also has other skills.
Dikhsh's route for monkhood begins today with a function where she attained Diksha. One of her family's close friends while talking to the media said, "Devanshi showed religious inclination since she was a toddler. She has followed the ascetic life since a very young age."
He further added, "On Tuesday, a day before Devanshi took 'Diksha,' a religious procession was taken out with fanfare in the city." It was with his credits it was known that a similar procession was also taken out in Belgium, owing to the close ties the Jain community has in Belgium where their business is flourishing as that in the home.