Published On
Gunther's Millions True Story: Who is Gunther VI, World's richest pet worth 400 million dollar
Gunther's Millions is a true story based on the world's richest pet, a German shepherd known as 'Gunther VI'. Author :
Ujjwal Samrat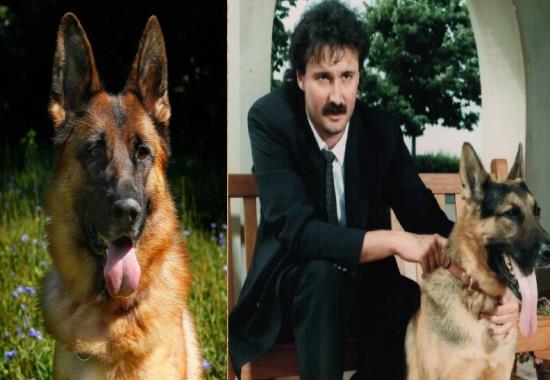 In a first for OTT giant Netflix, the much-awaited docuseries Gunther's Millions will be released on February 1, 2023. It is the first time when a documentary based on a dog will be released on Netflix. Netflix which is famous for bringing out-of-the-box content has yet again sent the fans into a frenzy ever since it released Gunther's Millions trailer. Created by Emilie Dumay, and Aurelien Leturgie, Gunther's Millions is a true story based on the world's richest pet, a German shepherd known as 'Gunther VI'. Gunther VI is owned by the Gunther Corporation who also manage the dog's estate and fortune and through real estate investments have rocketed Gunther's grandfather's inherited a fortune from a mere $80 million in 1992 to the $500 million reported (till writing this). Notably, Gunther VI, a German Shephard Dog, has been mentioned on the top among the Richest Pets of the World prepared by cat.com titled 'The Ultimate Pet Rich List'. Notably, being a 4-episodes docuseries, it is obvious that Gunther's Millions is the true story of the world's richest pet. However, it is also obvious that the net worth of Gunther VI has shocked people around the world and the fans will be eager to know ho the cannine became a multi-millionaire pet? With Gunther's Millions all set to release to Netflix, here's what you must know about the upcoming docuseries-
Who is Gunther VI and how did it become a millionaire?
Going by the trailer, Gunther's Millions which is in English and Italian begins by recounting the story of a German doctor who made a fortune in pharmaceuticals in the '80s. He provided his wife — a countess — and their son a life of comfort and ease. But when their son died by suicide after struggling with depression, the only heir to their $400 million fortune was the family dog, a German shepherd named Gunther. The empire the countess left behind (and the long line of Gunthers bred from the original) was left to family friend Maurizio Mian, an Italian celebrity known for tenuous ties to the mafia and an entourage of reverent followers. Gunther's Millions chronicles the last 30 years (and counting) of Mian's exploits, from setting up offshore accounts to buying Madonna's old real estate, to elaborate social experiments involving boy bands and bikinis — all under the watchful eyes of Gunther's chaotic canine empire.
Who is Maurizio Mian?
Maurizio Mian is an Italian entrepreneur and pharmaceutical heir and also the CEO of the Gunther Corporation, formed in the name of his beloved German shepherd. Over the years, Mian has used a long line of Gunthers as the figurehead for his various companies, investments, properties and business endeavors.
Maurizio Mian controversies
In 1990 Gunther Group released a house music record entitled "Wild Dog" on Casablanca Records, which made extensive use of sampled dog barking. The group's listing for sale of a property in Miami, formerly owned by Madonna, for $31 million in November 2021 was accompanied by more media coverage describing Gunther VI as the world's richest dog. They had purchased the property from Madonna in 2000 for $7.5 million. Notably, Gunther sold a mansion, formerly owned by Madonna, for $29 million in 2022. The 2008 Liechtenstein tax affair revealed Mian had €400 million in the tax haven. He insisted that the funds, representing Gunther's legacy, had been properly declared to the Italian tax authorities.
Real vs Reel: Is True Spirit a true story based on Jessica Watson, the world's youngest sailor?
Coming to Gunther VI, Maurizio Mian was tasked with managing the dog's estate, which saw him hire up to 27 staff to tend to all the pampered pet's needs and purchase sprawling mansions across the world. At a lavish Tuscan villa, owned by Gunther, Maurizio decided to audition young and 'beautiful' people to take part in the social experiment, designed to find the essence of happiness. Known as the Magnificient Five, they were given a life of luxury, with researchers and scientists monitoring their every move 24/7, with the aim they would procreate and birth 'perfectly happy' children. Among those who successfully auditioned to be part of this lifestyle was Cristina, who later developed a bond and a romantic relationship with Maurizio.
Gunther's Millions Trailer