Published On
Hansal Mehta's Scoop true story: Who is real-life journalist Jagruti Pathak? All about Jigna Vora's case
Scoop is a true story based on the book written by Jigna Vora, 'Behind Bars In Byculla: My Days in Prison'. Author :
Malkit Singh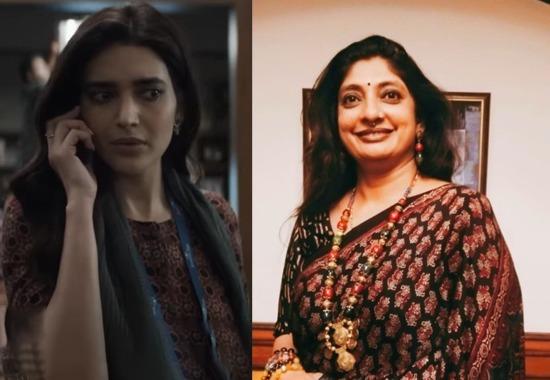 Veteran filmmaker Hansal Mehta who rose to fame for his series Scam 1992: The Harshad Mehta Story is again bringing a true story that shocked the entire India. Hansal Mehta's much-awaited series title Scoop's trailer was released on Monday and following that it started buzzing on social media. Like his previous work Scam 1992, Hansal Mehta did not go for a big star cast in his upcoming series Scoop. Created by Hansal Mehta and Mrunmayee Lagoo Waikul, the upcoming Netflix series Scoop stars Karishma Tanna as a star crime reporter named Jagruti Pathak who finds herself as the prime accused in the shocking murder of another journalist. Notably, Scoop is a true story based on the book written by Jigna Vora, 'Behind Bars In Byculla: My Days in Prison'. Scoop series is slatted to premiere on June 2, 2023, on the streaming platform Netflix. Apart from Karishma Tanna, Scoop's starcast includes- Harman Baweja, Ravi Mahashabde, Zeeshan Aayub, and more in pivotal roles. Since you have landed on this page, True Scoop News assumes that you have multiple questions in mid related to Scoop True Story or Scoop's real-life journalist Jagruti Pathak or Who is Jagruti Pathak? To know the answer continue reading below-
Scoop True Story: Who is the real Jagruti Pathak?
Before coming to the ultimate answer you are looking for, let's understand what the trailer shows. In the Scoop trailer, Karishma Tanna plays the character of a crime reporter named Jagruti Pathak who is also the Deputy Bureau Chief of a newspaper. One day, Jagruti Pathak lands an interview with one of the big underworld names, Nana, who belongs to Chhota Rajan's gang. The trailer further shows that Jagruti Pathak has good sources on the field due to which she easily gets high profile interviews and even confirmation from the Police officials if any crime or big incident takes place. This envies her other fellow journalists.
However, things go upside down when Jaideb Sen (Prosenjit Chatterjee) is murdered in cold blood by Chota Rajan's men. Following that, Jagruti Pathak becomes the main suspect and is sent off to jail. While most of the world believes Jagruti is guilty, she has to fight to clear her name.
Now, the question arises who is the real Jagruti Pathak?
Jagruti Pathak's character is based on journalist and writer Jigna Vora and the murder which has been discussed in the series is of Jyotirmoy Dey.
Jigna Vora's true story
Amazon Prime Video's Air True Story: Why Nike fired Sonny Vaccaro after Michael Jordan Deal?
Writer & Journalist Jigna Vora was Deputy Chief of Bureau of Asian Age when in 2012 she was named in the chargesheet of the Mumbai Crime Branch in the murder of another journalist named Jyotirmoy Dey. Jyotirmoy Dey was an investigative journalist of Mid-Day who specialized in writing about the underworld. In June 2011, he was shot dead by motorcycle-borne sharpshooters. On investigation, the Mumbai Crime Branch arrested seven sharpshooters from different locations and later it was found that they belonged to Chhota Rajan's gang "NANA COMPANY".9 Mumbai Police Commissioner (Then) had stated that the shootout was carried out on the behest of Rajan, and the shooters were allegedly kept in dark about the profession of Dey.
However, the case took a massive turn when the Crime Branch added Jigna Vora's name in the charge sheet. She was slapped under stringent provisions of the Maharashtra Control of Organised Crime Act (MCOCA) and various other penal offenses for her alleged role in sensational murder. As per reports, Jigna Vora had been under the Mumbai police's radar since July 2011 after the police intercepted a conversation between Manoj, brother of Vinod Asrani, who was arrested and the gangster Chhota Rajan. The police alleged that Vora had supplied the address and license plate number of Dey's motorcycle to Chhota Rajan. Police alleged that Vora's professional rivalry was the reason she committed the crime.
To be precise, Jigna Vora was accused of inciting underworld don Chhota Rajan to kill fellow journalist J Dey in 2011.
However, in July 2012, Jigna Vora was granted bail. Then, finally, in 2018, the trial court had acquitted Vora and another accused Joseph Paulson of all charges, However, the government had appealed against their acquittal in the Bombay High Court. Later the Bombay High Court upheld the trial court's judgement as well.
The Court in its judgment had said that the investigative agency had made its case against Vora, primarily on several phone calls and some witnesses in the case. However, none of these phone calls established that the killing was carried out at Vora's behest. As a result, Jigna Vora was acquitted of all charges.
Watch Scoop's trailer