Published On
Happy B'Day Rohit Sharma: 'Hitman' turns 35, 4 T20I Tons, 6 IPL Trophies, 3 Double-Centuries in ODIs
Rohit Sharma Happy Birthday: Indian team's full-time captain Rohit Sharma is celebrating his 35th birthday today.
Author :
Rohit Gupta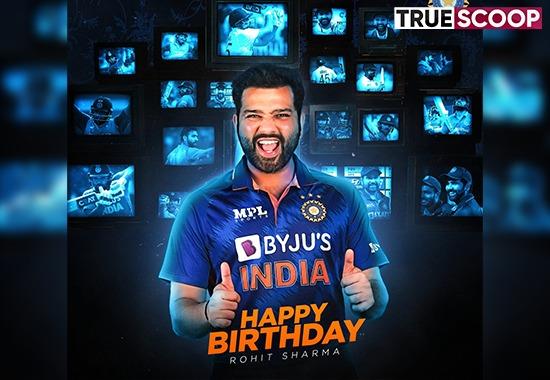 Rohit Sharma Happy Birthday: Indian team's full-time captain Rohit Sharma is celebrating his 35th birthday today.
During his 15-year international career, Rohit has made many such records in his name, which are almost impossible to break.

Rohit Sharma, the only batsman in the world to score three double centuries in ODI cricket, was born on 30 April 1987 in Nagpur district of Maharashtra.
As soon as MS Dhoni made him an opener in 2013, his career graph soared and he has currently become the captain of all three formats of the team.
Rohit Sharma is the only batsman to score 209, 264 and 208 runs thrice in ODI cricket. Today is Rohit Sharma's birthday and we are telling you about many records and interesting anecdotes related to him.
Rohit Sharma Happy Birthday:
When Rohit Sharma started playing cricket, he wanted to become a bowler. Rohit Sharma started his career as an off-spinner. At that time Rohit Sharma used to bat at number 8. Then Rohit's coach was Dinesh Lad and he paid attention to Rohit's batting and also asked him to pay attention to it.
In 2007, Rohit played the first ODI for India on the Ireland tour. Rohit got the opportunity to play the first T20 International against South Africa, in which he was the 'Player of the Match'.

He played an innings of 50 runs. In the same year, he was also selected for the team for the T20 World Cup. In the final of the tournament, Rohit played an important inning of 30 runs in 16 balls.
Rohit Sharma has scored a century in all three formats of cricket for India. Apart from him, only Suresh Raina and KL Rahul have been able to do this for India.
Rohit Sharma played the most memorable innings of his career against Sri Lanka in 2014. He scored the most runs scored by a batsman in an innings in ODI cricket history against Sri Lanka. Rohit scored 264 runs in this match. Then Rohit hit 33 fours and 9 sixes in 173 balls.
Rohit Sharma's Incredible records:
In ODIs, only 8 batsmen have scored double centuries, out of which Rohit Sharma has done this feat only three times.
Apart from Rohit, Sachin Tendulkar, Virender Sehwag, Chris Gayle, Fakhar Zaman and Martin Guptill have scored a double century once each.
Rohit Sharma is the second batsman to hit the most sixes in an innings in ODIs. He hit 16 sixes during his innings of 209 runs against Australia. Morgan had made this record against Afghanistan by hitting 17 sixes.
In 2017, Rohit scored a T20 century in 35 balls against Sri Lanka. Which is the joint-fastest century with David Miller in T20 Internationals.
Rohit Sharma has played 45 Tests, 230 ODIs and 125 T20 matches so far. During this, he has scored 9283 runs in ODIs, 3137 runs in Tests and 3313 runs in T20 Internationals.
Rohit has so far scored 41 international centuries. He has scored 8 centuries in Tests, 29 in ODIs and 4 in T20 Internationals. Rohit has played 221 matches in IPL, in which he has scored 5764 runs with one century.