Heeraben Modi's Death: From Amit Shah to Bhagwant Mann, nation's political leaders express their heartfelt condolences
All political leaders of the nation Punjab CM Bhagwant Mann, UP CM Aditya Yoginath, Capt. Amarinder Singh, Home Minister Amit Shah, etc expresses their heartfelt condolences to PM for a huge loss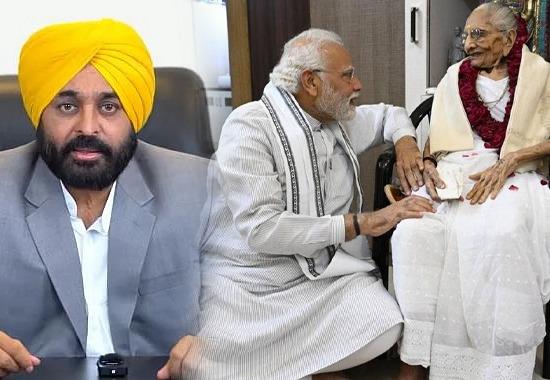 -

India's Prime Minister Narendra Modi's mother passed away at the age of 100 on Friday. She took her last breath at UN Mehta Hospital where she was admitted on Tuesday after complaining about breathlessness. PM Modi himself shared the news of his mother's demise through a tweet. He wrote, "glorious century now rests at God's feet. In my mother, I felt that the trinity which contains the journey of an ascetic.

Soon after the news of demise was shared by the Prime Minister, all political leaders of the nation Punjab CM Bhagwant Mann, UP CM Aditya Yoginath, Capt. Amarinder Singh, Home Minister Amit Shah, etc expresses their heartfelt condolences to PM for a huge loss.

Punjab CM Bhagwant Mann through his tweet expresses grief and wrote that he is deeply saddened by the untimely demise of Prime Minister Narendra Modi's death. He added that passing away of a mother is the biggest deficiency in life. He expresses his condolences to Prime Minister and his family, and also prayed to God to bless Heeraben Modi.
प्रधानमंत्री @narendramodi की माता जी के निधन की दुखद खबर मिली...एक मां का जिंदगी से जाना जीवन की सबसे बड़ी ना पूरी होने वाली कमी है...
दुख की इस घड़ी में प्रधानमंत्री जी और उनके पूरे परिवार के प्रति मैं अपनी संवेदना व्यक्त करता हूं... ईश्वर माता जी को अपने चरणों में निवास दे...

— Bhagwant Mann (@BhagwantMann) December 30, 2022
President Of Shiromani Akali Dal, Sukhbir Singh Badal while expressing his sadness wrote that losing a mother is an irreparable thing. He wished strength to Prime Minister and his entire family during this difficult time.
Deeply saddened to learn about the demise of Smt. Heeraben Modi Ji, beloved mother of Prime Minister @narendramodi Ji. There's nothing that can fill the void of losing mother.
My thoughts & prayers are with Modi Ji & his family in this hour of grief. 🙏🏼 pic.twitter.com/sfSCb3GirP

— Sukhbir Singh Badal (@officeofssbadal) December 30, 2022
Home Minister Amit Shah also shared a tweet as he is said to be very close friend of Prime Minister Narendra Modi. He wrote that news of Narendra Modi's mother's demise is very sad. He added that a mother is everyone's first teacher and a friend in life and losing the same is the biggest pain in the world.
प्रधानमंत्री @narendramodi जी की पूज्य माताजी हीरा बा के स्वर्गवास की सूचना अत्यंत दुःखद है। माँ एक व्यक्ति के जीवन की पहली मित्र और गुरु होती है जिसे खोने का दुःख निःसंदेह संसार का सबसे बड़ा दुःख है।

— Amit Shah (@AmitShah) December 30, 2022
Chief Minister of Uttar Pradesh Yogi Adityanath wrote, "For a son, the mother is the whole world. The death of a mother is an unbearable and irreparable loss for a son. The demise of respected mother of Honorable Prime Minister Shri Narendra Modi is very sad. May Lord Shri Ram grant the departed pious soul a place at his holy feet. Om Shanti!"
एक पुत्र के लिए माँ पूरी दुनिया होती है। माँ का निधन पुत्र के लिए असहनीय और अपूरणीय क्षति होती है।

आदरणीय प्रधानमंत्री श्री नरेन्द्र मोदी जी की पूज्य माता जी का निधन अत्यंत दुःखद है।

प्रभु श्री राम दिवंगत पुण्यात्मा को अपने श्री चरणों में स्थान प्रदान करें।

ॐ शांति!

— Yogi Adityanath (@myogiadityanath) December 30, 2022
Capt Amarinder Singh who has recently joined BJP stated, "my heartfelt condolences to Prime Minister Narendra Modi over passing away of his beloved mother Smt. Heeraben Modi. May her soul rest in peace."
My heartfelt condolences to Hon. Prime Minister Shri @narendramodi Ji over the passing away of his beloved mother Smt. Heeraben Modi. May her soul rest in peace. pic.twitter.com/UQmf8mwXvI

— Capt.Amarinder Singh (@capt_amarinder) December 30, 2022