'History': AAP breaks Congress' stronghold, Sushil Rinku wins Jalandhar Lok Sabha Byelection 2023
AAP's Sushil Rinku got a total of 302279 and due to this, the party's vote percentage amped up to 34.05.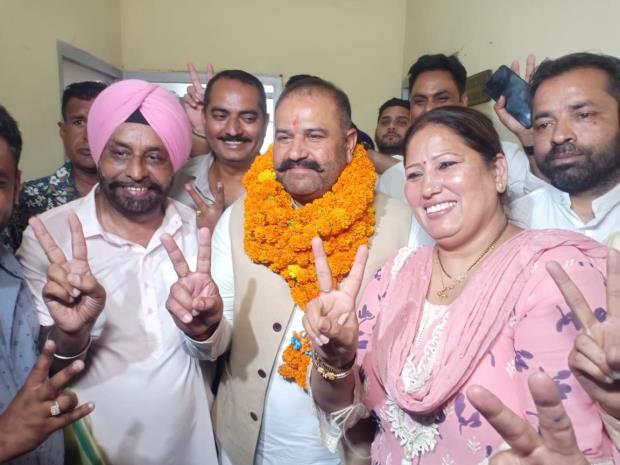 -

Aam Aadmi Party (AAP) on Saturday scripted yet another history after its candidate Sushil Rinku won the Jalandhar Lok Sabha Byelection 2023 by a massive margin of approx 58,000 votes. AAP's Sushil Rinku got a total of 302279 and due to this, the party's vote percentage amped up to 34.05. Congress' Karmjit Kaur Chaudhry was number 2 in the Jalandhar by-poll with 243588 votes and a vote percentage of 27.44. Jalandhar constituency was considered as stronghold of Congress and the party had kept winning it for the past 40 to 50 years, however, they could not emulate their glorious past success. It is pertinent to mention here that the Election Commission of India is yet to announce results formally, however, it is expected there will only be a slight change and Sushil Rinku is expected to keep his lead.

During a joint press conference, Arvind Kejriwal revealed that during the 2022 elections, AAP had only 4 seats out of 9. However, after the victory in the Jalandhar Lok Sabha by-poll, AAP is now leading on 7 seats out of the 9 seats of the constituency. The two seats where AAP could not lead are- Jalandhar (Centre) and Jalandhar (North). Interestingly, in Jalandhar Centre, AAP has its sitting MLA Raman Arora, but the party could not lead from that seat in the by-poll. Interestingly, Congress candidate Karmjit Kaur Chaudhry could get a lead from Phillaur from where his own son Vikram Chaudhry is an MLA.

Jalandhar Byelection 2023 Result: Arvind Kejriwal lauds people of Punjab after AAP leads on 7 out of 9 seats

Punjab CM Bhagwant Mann stated that AAP is a 14-month-old government in Punjab and asked for votes based on its work. AAP did not do divisive politics but outlined Mohalla Clinics, Free Power, action against corruption, and more. Mann also outlined that winning with almost 60,000 margins showcased, how the people of Punjab have supported the AAP, its work culture, and its honesty. Doaba was a Congress stronghold for the past 50 years, they did not even use to go there and ask for votes. They were so much confident, but this result has shown them that the people of Punjab now support AAP.