Published On
IB 71 True Story: Who is IB agent Dev Jammwal & how did he help India during the 1971 war?
IB 71 is based on 'untold' real events in which India's Intelligence Bureau (IB) went on its biggest secret mission against not only Pakistan but also China. Author :
Malkit Singh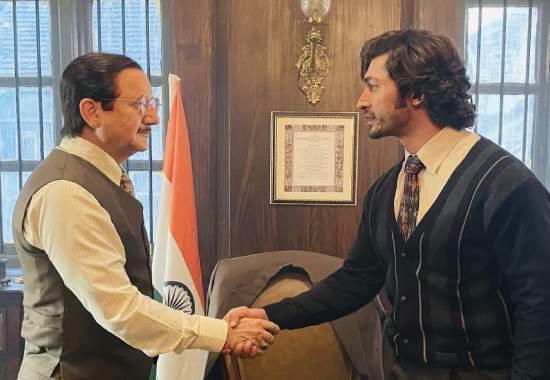 Hailed as among the under-rated actor, Bollywood actor Vidyut Jammwal's movie IB 71 was released in theaters on May 12, 2023. At first, fans did not express their excitement for the movie, however, slowly and steadily, IB 71 is gaining momentum and is now also started to make some noise at the box office. IB 71 is based on true events that occurred during the Indo-Pak War in 1971. To be precise, Vidyut Jammwal in an interview stated that IB means Intelligence Bureau and 71 is the time period when India and Pakistan went to war. Therefore, IB 71 is based on 'untold' real events in which India's Intelligence Bureau (IB) went on its biggest secret mission against not only Pakistan but also China. Written and Directed by Sankalp Reddy, IB 71 has a star cast including Vidyut Jammwal, Anupam Kher, Vishal Jethwa, and more in the lead roles. Assuming you have landed on this page, you have already watched IB 71 and have many questions related to the true events of the movie including who was real IB agent Dev Jammwal and how did he complete his mission? To know the answer continue reading-
Who was IB agent Dev Jammwal?
As mentioned above, IB 71 is based on an 'untold' true event, therefore, who is the real IB 71 IB agent Dev Jammwal has not been revealed. However, in the movie Bollywood actor Vidyut Jammwal plays the character of IB agent Dev Jammwal. IB 71 is about a highly classified mission undertaken by India during the 1971 Indo-Pak conflict. The mission was kept secret for over five decades. The story follows IB agent Dev Jammwal as he leads a team of 30 agents on a ten-day operation to protect the country. To hook of the movie is IB carries out a secret mission not only against Pakistan but also China (a two-front war). Interestingly, seeing today's scenario, India is in a similar condition in which Pakistan and China call themselves 'all weather ally' and often take a decision that is against India's interest.
Notably, the trailer shows that India was totally unprepared when the IB got the intel that Pakistan is planning to wage war with the help of China in 1971. Then Vidyut comes up with a plan to fool Pakistan. Vidyut suggests Anupam Kher to close the air space. However, Anupam Kher refuses, then Vidyut says what if Pakistan blocks their own airspace? Then, Vidyut goes on a secret mission with a group of 30 secret IB agents.
Now, to know what happens next, you need to watch the movie in theaters or wait for it to stream on OTT.
What did the makers say about IB 71?
Sankalp Reddy, the director of the movie was quoted saying, "After the Ghazi Attack, IB 71 is yet another story that helped us win the 1971 Indo-Pak war. I was shocked when Vidyut came to me with this story. I really appreciate the way Vidyut has stepped out of his comfort zone for this movie and decided to take up an unconventional role for the first time."
Real vs Reel: Is Kathal A Jackfruit Mystery starring Sanya Malhotra a true story?
For the unversed, the Indo-Pakistani War of 1971 was a military confrontation between India and Pakistan that occurred during the Bangladesh Liberation War in East Pakistan from 3 December 1971 to 16 December 1971. In 1971, the Indian Armed Forces gained victory in a two-front war with the Pakistan Army in 1971, which ultimately led to the birth of Bangladesh from erstwhile East Pakistan. India's victory over Pakistan in 1971 is well documented in which 93,000 Pakistani troops surrendered to India before the whole world.