Published On
IFHE Hyderabad student assaulted & forced to chant 'Allah Hu akbar' in campus over remarks on Prophet Muhammad
IFHE Hyderabad video is also going viral on social media in which Himank can be seen brutally thrashed in his hostel room.
Author :
Ujjwal Samrat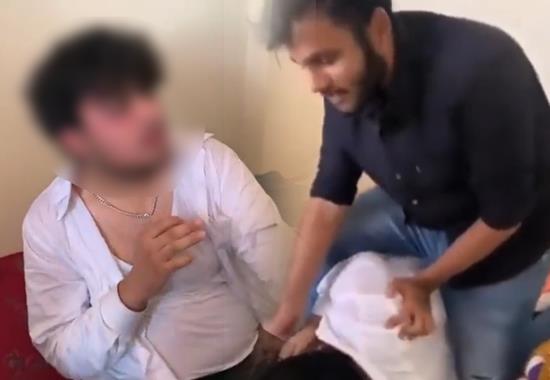 In what can be called an absolute blood-boiling incident, a student named Himank Bansal was allegedly assaulted and forced to chant 'Allah Hu Akbar' by senior students at IFHE Hyderabad. After being assaulted, Himank Bansal, student of BA-LLB, in his written complaint sent to the college administration stated that he was assaulted by senior students of the college on November 1, 2022, and also a video was recorded by them. Notably, IFHE Hyderabad video is also going viral on social media in which Himank can be seen brutally thrashed in his hostel room.
As per Himank's written complaint, around 20 students barged into his hostel room and started thrashing him. Not only this, Himank was forced to upload a Snapchat story showing his bruises. The law student further stated that when he asked the seniors why they are beating him down, he was reminded that he had referred Prophet Muhammad as a pedophile. In his written complaint, Himank also attached his exact remarks on Prophet Muhammad. The law student further informed that he was talking to a third-year student from the same college through private text on Instagram and 'mistakenly' made the remarks and did not realize that it would hurt religious sentiments.
The students who beat Himank also snatched his phone and read his WhatsApp texts and other social media messages. The student revealed that he deleted the text in fear of getting beaten once again, however, pointed out how his right to privacy was also breached. Himank also named a student saying they talked about on via private text, however, a screenshot was taken, and later it was circulated.
Watch IFHE Hyderabad student video
Himank Bansal, Hindu student of ICFAI Law School, Hyderabad @IFHEofficial assaulted and forced to chant Allah Hu Akbar by Senior Muslim students.

Dear @hydcitypolice :
kindly lodge an FIR and arrest the culprits. pic.twitter.com/7OL10xoUbR

— Shashank Shekhar Jha (@shashank_ssj) November 12, 2022
Drishti IAS host Dr. Vikas Divyakirti in soup over remarks on Goddess Sita; Here's what happened@IFHEofficial@hydcitypolicepic.twitter.com/7OL10xoUbRNovember 12, 2022
Case Lodged
Video and photographic evidence of the assault has also been submitted to the police along with the complaint by Bansal. Following his complaint, the Cyberabad Police shared that a case has been registered on 11th November 2022 by Shankarpally Police Station against the culprits under the provisions of 307, 342, 450, 323, 506, R/W 149, IPC, and Sec 4(I),(II), and (III) of the Prohibition of Ragging Act of 2011.
In the incident reported at IBS Institute, A case was registered on 11.11.2022 by Shankarpally PS, agansit the culprits under the provisions of 307, 342, 450, 323, 506, R/W 149, IPC and Sec 4(I),(II), and (III) of the Prohibition of Raising Act of 2011. The action is being taken. https://t.co/uknlITNxbJ

— Cyberabad Police (@cyberabadpolice) November 12, 2022