Published On
'Illuminati' forthcoming musical web series: Ranveer Singh and Vicky Kaushal to play lead roles
The story of the Illuminati will be told for the first time, many people refer to it as a strong mafia that leads successful individuals
Author :
Nishtha Jairath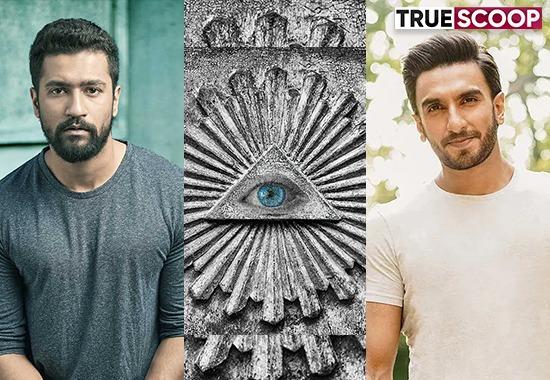 Vinay Bhardwaj and Mahesh Bhatt are planning a web series on the world's most mysterious organization, the Illuminati. Now, plans are being made to cast prominent names like Vicky Kaushal and Ranveer Singh in this series. This is going to be a musical series. Aside from that, an Illuminati member will be featured in the MCU film Doctor Strange 2. The world has been suppressing this reality until now, but the entertainment industry is now attempting to shed light on that hidden group, which the majority of the world's population is ignorant of. Meanwhile, a substantial portion of the world is not only linked with this organization but is prepared to govern the world.
Honey Singh has been signed for the music:
Honey Singh has been signed for the music by Vinay Bhardwaj and Raj Mayekar. This series' creative mentor will be Mahesh Bhatt. Vinay and Mahesh Bhatt have also recently collaborated on a web series called 'Pehchan.' Inspiring stories from Sikh personalities from around the world will be included in the series. On May 7th, a sneak peek of the series 'Pehchaan,' which was shot on The Kapil Sharma Show, will be shown.
The two big stars in B-town Vicky-Ranveer will play the lead roles:
'Illuminati,' which will include music and common facts about the mystery organization. There is a debate regarding that organization, which is affiliated with important people from all over the world. They all utilize their power to promote the talents who join the organization from rank to king. In exchange, they will undoubtedly demand a fee. Are you being asked to give up something special? Although how real all of this is has been argued for ages across the world. However, for this season, the show's producers are surely attempting to cast Vicky Kaushal and Ranveer Singh as the primary characters. These developments have been validated by the creators.
Get to know all about the society of the 'Illuminati':
Adam Weishaupt, a German professor of Canon Law and Practical Philosophy, founded the society. Adam believed that many individuals are unable to live freely because of Catholic beliefs and Church laws. It was from here that he got the notion of organizing a community that would live a life without rules, with no religious restrictions, and be allowed to perform arbitrariness free of all restraints.
Also Read: Who is Zaheer Iqbal? Sonakshi Sinha's engagement partner revealed; Everything you need to know
In 1977, Adam Weishaupt t held a secret meeting to promote the notion of building a new society for the people. Within a few years, around 3000 people had joined this organization. Weishaupt intended to build a society of individuals who lived without religious norms, but as more people joined, regulations were imposed. Some of these people also joined the gang that rebelled against God and began worshipping the demon Lucifer.
Why government announced death plenty for people joining this society?
When members of this group began to dominate the broader populace, the government decided to take harsh measures against them. It has been declared that everyone who joins this organization will be penalized. But the Illuminati did not stop. They persisted in pursuing their mission in a more mysterious manner than ever before.
The concept of Ranveer and Vicky's new musical web series on Illuminati:
The Illuminati's story will be told in the series. Vinay claims that the story of the Illuminati will be told for the first time. "Many people refer to it as a strong mafia that leads successful individuals," Vinay adds. This group is supposed to be capable of transporting humans from the ground to the skies. What happens to a person after joining him, we will present all of that in the series.