Published On
Imran Khan supporters storm inside Pak Army General's house; Salman Ghani sacked for refusing to shoot them
Imran Khan protestors barged inside the Corps Commander's mansion in Lahore and caught Salman Fayyaz Ghani off guard with his family. Author :
Malkit Singh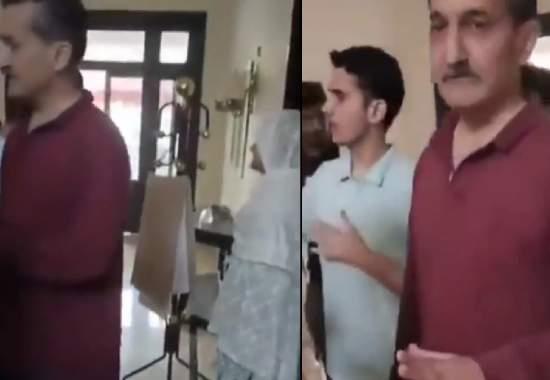 While Pakistan was reeling under economic meltdown, the country is now in turmoil ever since the country's former Prime Minister Imran Khan was arrested from Islamabad High Court premises. Following that the supporters of Imran Khan who is also the chief of Pakistan Tehreek-e-Insaf (PTI) chief went on a rampage burning public properties, barging inside Pakistani Army General's mansions, ransacking it, and even stealing everything from them. The dramatic arrest of Imran Khan over corruption charges irked his followers who literally burnt down Pakistan. As the situation worsened, the Islamabad High Court upheld Imran Khan's arrest but a three-member Supreme Court bench on Thursday had declared his detention "illegal" and ordered his immediate release. Thereafter, on Friday, Imran Khan was granted two weeks of bail by Islamabad High Court on Friday in a corruption case. While there is a sigh of relief for Imran Khan, multiple videos of his supporters creating chaos in the Islamic Nation are surfacing and one of them is when protestors barged inside a Pakistani Army General Salman Fayyaz Ghani's house and kept him and his family under captivity.
As per the viral video, Imran Khan protestors barged inside the Corps Commander's mansion in Lahore and caught Salman Fayyaz Ghani off guard with his family. In the video, it can be seen Imran Khan's supporters arguing with the Army Personnel while his family continues to watch. Following the incident, Salman Fayyaz Ghani was caught fleeing the area along with his family along with other high-ranking officers.
Watch Video
In this video, an uneasy Salman Fayyaz Ghani can be seen with protesters in his Corps Commander mansion

This is a slap on the faces of those who claimed "we let them brooooo"

No. In yet another miscalculation, the military Junta was NOT prepared for Pakistan's reaction. #Lahore pic.twitter.com/GljHl2w7G6

— Asfandyar (@AsfandBhittani) May 12, 2023
Salman Fayyaz Ghani sacked
In another development, Pakistani media reports suggested that Lieutenant General Salman Fayyaz Ghani (Corps Commander Lahore) refused to give orders to open fire on Pakistani citizens on May 9, 2023. As a punishment for not shooting Pakistani citizens, he was sacked by GHQ. Reports are that he resigned in protest.
Italy: Parked van mysteriously explodes at Milan's street, lits up multiple vehicles; Watch Video
Coming to Imran Khan's arrest, he was ousted as Prime Minister of Pakistan last April and was arrested from outside the Islamabad High Court on Tuesday in the Al-Qadir Trust case after the National Accountability Bureau (NAB), the country's top anti-corruption body, issued an arrest warrant against him.