Published On
India-Canada dispute sends shockwaves through Punjab: trade, farmers and students on the line
India-Canada dispute: trade, farmers and students at risk Author :
Malkit Singh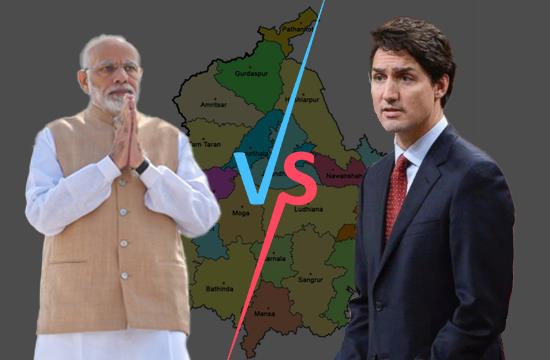 In a development that has sent ripples of concern across the region, the ongoing India-Canada dispute is causing apprehensions over trade, visa policies, education, and the future prospects of countless Punjabi residents in both countries.
Trade at a crossroads:
The fiscal year 2022–23 witnessed a flourishing trade relationship between India and Canada, amounting to a substantial $8.16 billion.
However, this thriving economic collaboration now stands on uncertain ground as India reevaluates its trade agreements, largely due to perceived anti-India activities within Canada. This reassessment could spell substantial losses for businesses, with trade disruptions potentially running into billions.
The dilemma of farmers:
Historically, Punjabi residents in Canada have been significant contributors to the nation's agricultural and horticultural sectors. However, their livelihoods now hang in the balance due to the ongoing discord.
India's 2017 decision to increase tariffs on yellow pea lentils, a crucial ingredient in many Indian dishes, had already taken a toll on Canadian Punjabi farmers, forcing them to explore less profitable export routes, including Pakistan. The current dispute compounds their concerns.
Students caught in the crossfire:
Also Read: From Farzi to Scam 1992: 10 most watched Indian series that are Binge-watch worthy
Approximately 160,000 Punjabi students are presently pursuing their academic dreams in Canada. Escalating tensions could put their futures at risk, with looming threats of visa cancellations and possible deportations.
These students also make substantial contributions to the Canadian economy through visa fees, tuition, and taxes, but the dispute may force Canada to reconsider its visa policies.
Furthermore, Punjab experiences an annual exodus of around 50,000 students to foreign countries, with Canada as the top destination.
Factoring in the average fee structure, this translates into an investment of approximately Rs 12,500 crore by Punjabi families in foreign education. The ongoing dispute could divert this significant financial stream to other nations, potentially leaving Canada without these funds.
In conclusion:
As the governments of India and Canada navigate this dispute, it is the ordinary Punjabi citizen—the farmer, the student, the entrepreneur—who faces the brunt of the consequences.
Collaboration between both nations to find a resolution is imperative, safeguarding the dreams and livelihoods of these individuals and preventing them from becoming casualties in a broader geopolitical struggle.
This dispute underscores the pressing need for diplomatic efforts to reach common ground, mitigating the adverse effects on the people of Punjab and preserving the invaluable bilateral relationship between India and Canada.