Published On
'Parasite, Go back home': Indian man racially abused by American tourist in Poland viral video; Watch
Poland racism video has been doing rounds on social and netizens have been slamming the shameful act committed by the American man.
Author :
Ujjwal Samrat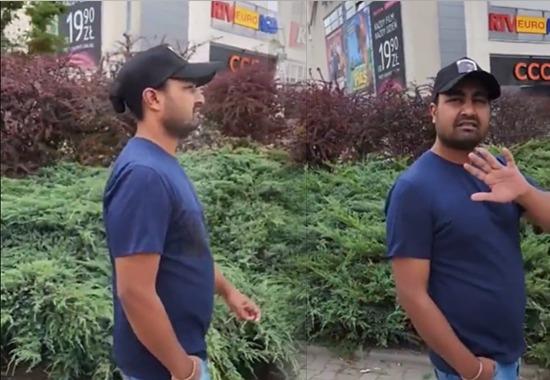 Hate crimes against Indians in abroad are on rising especially in the United States of America (USA) as another Indian was abused on road by an American tourist in Poland. Poland racism video has been doing rounds on social and netizens have been slamming the shameful act committed by the American man. In fact, the Poland Indian racism video has been spreading like a wildfire and netizens are demanding the President of the USA Joe Biden to take strict action in order to stop it.
In the viral Poland Indian racism video which is approx 4 minutes long, the white man can be seen rushing toward the Indian man and instigating him by hurling racially abusive comments. In the video, it can be seen clearly the man was passing by, however, the white man rushed towards him and started recording him without his permission.
In the Poland Indian man video, he says, "Why are you in Poland?" Seeing him filming without his permission, the Indian man asks, "Why are you filming me?"
The white man says, "Because I am from America. In America, there are too many of you guys. Then why are you in Poland? Why are you here? Do you think you can just invade Poland? You have your own country. How come you cannot back to your own country? Why don't you go back to your country? Why are you here? Why don't you go back to India? Are you from India?"
On being irritated, by continuous harassment, the Indian man asks to stop filming him. However, the American man continued his harassment. He further said, "This is my country. I am European and European wanna know why your people invading our homeland. You have India, why are you coming to white man's land?"
The American man then alleges that Indians abroad are living off the hard work done by the white man and he says Indians should build their own country. "Why are you being a parasite?" he asked again. "You're genociding our race. You're an invader. Go home invader. We don't want you in Europe. Poland for Polish. You're not Polish, why are you here?" the man further said.
Reportedly, the shameful incident took place in Poland's capital Warsaw. Notably, ever since the racism video has gone viral, people from around the world have demanded the arrest of the man. However, the Poland authorities are mum over the incident and there are no reports or statements have come in pertinent to this case.
Hate Crime against Indians on the rise
Notably, from the past few days, multiple videos have gone viral on social media showing how Indian living in Abroad and America face racism and hate crime. Among the most recent ones is in Texas, USA. A group of 4 Indian women were racially abused and assaulted by a Mexican-American woman in a parking lot in Texas. The Mexican American woman was arrested by the Dallas Police and was identified as Esmeralda Upton, a resident of Plano. Another incident came to the fore, after California prosecutors charged Tejinder Singh, 37 with hate crime in violation of civil rights, assault, and disturbing the peace by using offensive language. In the viral video, Tejinder was seen repeatedly called an Indian Hindu man "dirty ass Hindu", "ugly ass Hindu" and frequently used the N-word. Furthermore, he had switched to Punjabi to abuse Indira Gandhi, the Indian Prime Minister who was assassinated by her Sikh bodyguards.
He's from America but is in Poland because he's a white man which makes him think he has the right to police immigrants in "his homeland"
Repulsive behavior, hopefully, he is recognized pic.twitter.com/MqAG5J5s6g

— 🥀_Imposter_🕸️ (@Imposter_Edits) September 1, 2022