Indian-Americans to celebrate Raksha Bandhan 2022 with 'cow-dung' Rakhis; Details Inside
This time Rakhi will be celebrated with utmost joy on 11th August with different kinds of Rakhis.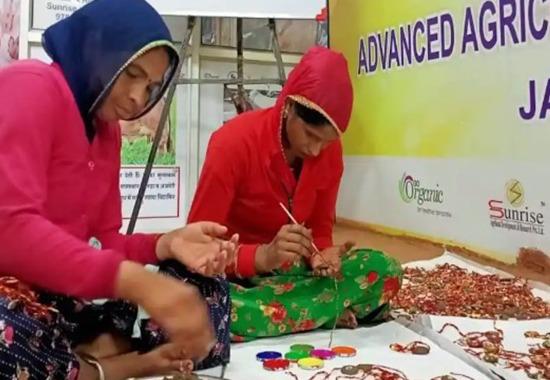 -

Raksha Bandhan is one of the festivals in India that is celebrated with great exuberance and gaiety. This festival will be celebrated in the most unusual way in America.

Around 60,000 rakhis have been exported from India to America and Mauritius for the Raksha Bandhan celebration.

Now you all must be wondering what is so unusual in this.

The Rakhis that the people residing in America and Mauritius will tie on the wrist of their brothers will be made of cow dung which is 100% organic and environmentally friendly. This is the first time that anything like such will take place in America.

Atul Gupta from the Organic Farmer Producer Association of India said, "while an order of 40,000 rakhis have been received from America, 20,000 will be sent to Mauritius.

According to the National President of the women's wing of the association, the rakhis sent overseas will symbolize the organic and sacred relation of a brother and sister.

By exporting these types of Rakhis the producers are also helping the small-scale workers, especially women to generate more income. This decision will also contribute to getting rid of pollution.

The humongous order from abroad has helped the women of rural areas to get recognition and earn more income.

According to Monika Gupta, secretary of Hahnemann Charitable Mission Society, it is a great step to protect and preserve the environment as these rakhis don't harm nature in any way.

She also mentioned how these rakhis are made. "The dung is dried well in the sun and removes up to 95 percent of the smell of feces. After this, cow's ghee, jatamasi, sandalwood and turmeric white clay are mixed in the soft powder of dry cow dung. Finally, water is mixed with the guar pod powder and the whole mixture is kneaded into a dough. The guar pods act as glue, making the whole mixture not only stiff but also smooth and shiny on top. Both dung and gum are constantly dissolved in water. Moli thread is applied on the back surface after the rakhi is ready, which is then tied onto the wrists. No chemicals are used in the entire process," she added further.

Surely, this time Rakhi will be celebrated with utmost joy on 11th August with different kinds of Rakhis.