Trained in Pakistan: Inside story of Hardeep Singh Nijjar's crimes unmasked in India's dossier
From Punjab to Canada, the terrorist's dark past of Hardeep Singh Nijjar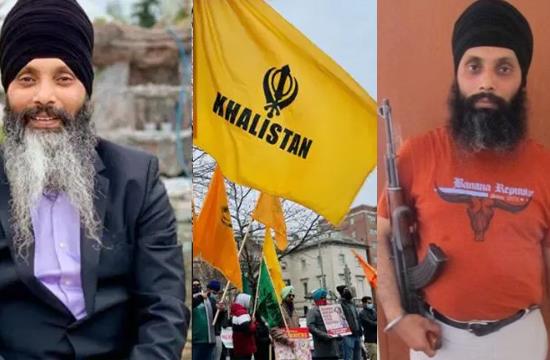 -

In this exclusive inside story of Hardeep Singh Nijjar, we delve deep into India's classified dossier, and expose the startling revelations about Nijjar's criminal activities, his training in Pakistan and his key figure in a sprawling web of terrorist in transcended continents.

Birth and Early Life: A tale of Unconventional beginnings

Hardeep Singh Nijjar was born on October 11, 1977, in Bharasinghpur, Jalandhar, Punjab. His journey into the world of terrorism was anything but ordinary. From a young age, Nijjar became an active member of the Khalistan Commando Force (KCF), playing a crucial role in its expansion. His contributions encompassed networking, training, and financing. In 2020, the Indian Ministry of Home Affairs officially declared him a terrorist under the Unlawful Activities (Prevention) Act (UAPA).

Canada's connection: The Diplomatic tightrope

Following Nijjar's murder in Canada, tensions between India and Canada soared. While Canada staunchly maintained his innocence, India's intelligence agencies painted a contrasting narrative. Allegations and evidence mounted against Nijjar, challenging his status as a mere victim.

The Assassination in June 2023: A Gruesome end

On the fateful evening of June 8, 2023, at approximately 8:25 PM local time, Nijjar met a gruesome end outside the Guru Nanak Sikh Gurdwara in Surrey, British Columbia, Canada. Unidentified assailants struck, bringing a tragic conclusion to his controversial life.

India's handover of Dossier to Canada: Unveiling a dark past

In 2018, India handed over a comprehensive dossier to Canada, revealing Nijjar's activities dating back to his flight from India in 1996. His journey included fundraising for terrorism, involvement in an extortion syndicate, and drug smuggling. The dossier laid bare his associations with prominent figures like Hardeep Singh Tara and Gurjeet Singh Cheema.

Nijjar's Pakistan connection: A Deep-seated affiliation

Nijjar's ties to Pakistan ran deep. He operated under the banner of the Babbar Khalsa International (BKI) and assumed leadership of Tara's organization in 2013. During his time in Pakistan, he underwent extensive training in handling weapons and improvised explosive devices (IEDs). Simultaneously, he maintained connections with ISI officers, marking a tumultuous chapter in his life. This period also witnessed Nijjar's multiple visits to Pakistan.

Establishing the KCF Module: A Chilling blueprint

In collaboration with Arshdeep Dalla, Nijjar established a KCF module with the sinister objective of carrying out targeted killings. Plans were set in motion to assassinate SSP Harmanbir Singh Gill and two CBI inspectors. India's National Investigation Agency (NIA) placed a substantial cash reward on Nijjar's head, and chargesheets were filed against him.

Sending funds for Terrorist activities: The Financial trail

Operating from Canada, Nijjar facilitated the supply of arms and provided GPS device training to terrorists in Pakistan. Shockingly, he dispatched a significant sum of 1 million INR to fund terrorist operations in 2014. Despite visa complications, Nijjar meticulously planned terrorist attacks in Sirsa in the same year. Notably, he assumed the role of president at the Guru Nanak Sikh Gurdwara in Surrey, Canada, in 2021, adding another layer to his complex persona.

Also Read: Flipkart's Big Billion Days Sale: Get the Galaxy S23 Ultra at unbelievable prices

Involvement with Banned organizations: A Disturbing affiliation

Following the extradition of Hardeep Singh Tara, Nijjar ascended to become the operational head of the dreaded Khalistan Tiger Force (KTF). Multiple cases were filed against him, including the formation of modules in Canada that were linked to Maninder Singh Bittu and other notorious figures. Nijjar's affiliation with banned outfits, such as Sikhs for Justice (SFJ), led to violent anti-India protests and threats against Indian diplomats on Canadian soil.

Long record of Terrorist activities: The Unraveling of a Dark past

Nijjar's journey into the heart of terrorism was a labyrinthine one. Originally involved in farming and dairy, he took a drastic turn toward Khalistani terrorism after relocating to Canada in 1996. Operating under the alias Ravi Sharma, he obtained a fake passport and fled, citing police torture and the arrests of family members. However, authorities cast doubt on the veracity of his claims.

Luring shooters with Lucrative job offers: A Descent into Darkness

Nijjar and Ramanjit Singh masterminded the recruitment of individuals into terrorism by offering visas, promising lucrative jobs, and assuring substantial incomes. Initially engaged in intimidation and extortion, these recruits were gradually radicalized into hardcore Khalistanis, eventually carrying out targeted killings across Punjab.

Training Youths in firearms: Arming the foot soldiers

In a chilling turn of events, Nijjar organized a firearms training camp named "Mission Hills" in BC, Canada, in December 2015. Here, impressionable youths were trained in the art of handling various weapons, from AK-47 rifles to sniper rifles and pistols. Nijjar's role expanded to planning targeted killings, orchestrating abductions, and disturbing communal harmony in Punjab.

Targeted Killings and Acts of Terror: A reign of fear

Nijjar's fingerprints were unmistakable on several targeted killings in Punjab. These included the murder of religious figures and planned attacks on law enforcement officers. His reign of terror left a trail of fear and instability in its wake.

The Complex web of Terror: A Global operation

Hardeep Singh Nijjar's involvement in Khalistani terrorism spanned decades and crossed international borders. His arrest in September 2021 marked a significant milestone in the dismantling of the Khalistani terror network, offering hope for peace and security in the region.

Conclusion: Unmasking the terrorist

The life of Hardeep Singh Nijjar was a tapestry of violence, intrigue, and international conspiracy. From his humble beginnings in Punjab to his rise as a prominent figure in Canadian Sikh circles, Nijjar's transformation into a key player in Khalistani terrorism remains a chilling testament to the enduring threat of extremism.