iPhone 15 launched at 'Wanderlust' event after Apple discontinues its two phones; Know which model
Apart from unveiling of iPhone 15, Apple made some shocking decision and one of them were to discontinue iPhone 14 Pro and iPhone 14 Pro Max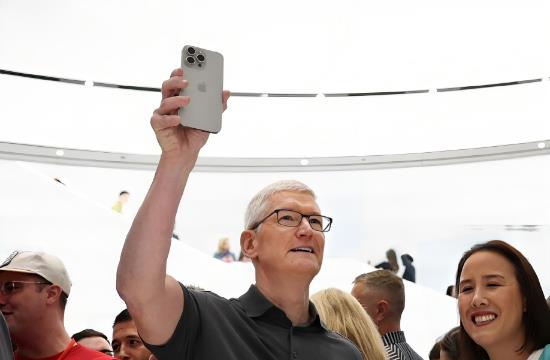 -

The much-awaited Apple Event 2023 took place on September 12, 2023 in Cupertino, California and the company's CEO Tim Cook unveiled the new iPhone 15 and its variants along with new Apple Watch Series. Apple which among the most selling smartphone brand in the world unveiled plethora of changes in its brand new iPhone 15 and its variants. With a new design, promising upgrades, and 5 gorgeous colour options, the iPhone 15 looks like quite a catch for the people who 'live, eat & sleep' admiring Apple gadgets. During the Apple 2023 Wanderlust Event, four models of the phone, the iPhone 15, iPhone 15 Pro, iPhone 15 Pro Max and the iPhone 15 Plus were launched by CEO Tim Cook in California. While there are multiple changes in the iPhone 15 and its variants, the most notable of all is the induction of Type C-USB Charging slot. Although Apple's unwillingly change to Type C USB slot, it is indeed a new dawn in the company's history, all thanks to European Union's ban on lightening cables. Interestingly, Apple also officially announced that it is discontinuing its 2 previous models. Those who are eager to know about Apple's iPhone 15, its variants and models that are discontinued, below is everything you need to know-

Which Apple's handset are now discontinued?

Apart from unveiling of iPhone 15, Apple made some shocking decision and one of them were to discontinue iPhone 14 Pro and iPhone 14 Pro Max. Yes! you heard it right. iPhone 14 Pro and iPhone 14 Pro Max have been discontinued. Apart from iPhone 14 Pro and iPhone 14 Pro Max, iPhone 12 and iPhone 13 mini have also been taken off the shelves by Apple. For the unversed, last year, Apple had already removed the 12 mini from stores, keeping only the larger screen model available for another year. And now, with the end of the iPhone 13 mini, Apple no longer sells any 5.4-inch iPhone. Those wondering why Apple discontinued its mini series, the answer lies in sale. As per reports, neither the iPhone 12 mini nor the 13 mini were a sales success. In fact, they were the least sold iPhone models in their respective launch years. As a result, Apple discarded its liabilities and banked upon its assets.

What's new in iPhone 15 and its variants?

Talking about what's new in iPhone 15, Apple's new phone comes with a 6.1 inch display and will be available in five colour options - pink, yellow, green, blue, and black. Notably, Apple has retained the same traditional design as the iPhone 14 and previous models this time as well. However, instead of the usual notch you get a Dynamic Island notch, which was a hit with the iPhone 14 Pro models last year.

Notably, iPhone which has arguably the best camera has induced 48-megapixel primary camera sensor this time. As a result, Apple's iPhone 15 can now give a serious competition to its rivals like Samsung and One Plus. For those who are unaware, iPhone 14 had a 12-MPl dual camera system. Hence, comparatively, the iPhone 15 has received a massive upgrade, and promises better low light photography and portrait shots. In terms of battery, Apple promises that the iPhone 15 comes with an "all day battery life".

Also Read: Apple unveils iPhone 15 series, new Watches; available in India from Sep 22

iPhone 15 Pro

As per Apple, iPhone 15 Pro is the first iPhone to feature an aerospace‑grade titanium design, using the same alloy that spacecraft use for missions to Mars. Apple further suggests that Titanium has one of the best strength‑to‑weight ratios of any metal, making these our lightest Pro models ever. You'll notice the difference the moment you pick one up. Talking about the processor, it has been induced with A17 Bionic Chip. As per Apple, A17 Pro is an entirely new class of iPhone chip that delivers our best graphics performance by far. Mobile games will look and feel so immersive, with incredibly detailed environments and more realistic characters. And with industry-leading speed and efficiency, A17 Pro takes fast and runs with it.

In terms of camera of iPhone 15 Pro, Apple promises that you have multiple focal lengths to work with. It's like having seven pro lenses in your pocket, everywhere you go. The 48MP Main camera is more advanced than ever, capturing super‑high‑resolution photos with a new level of detail and colour. You'll see the improvements in your portraits. And now you no longer have to switch to Portrait mode. If your subject is a person, dog or cat, iPhone automatically captures depth information. So you can choose to instantly see your photo as a portrait, with an artful blur effect. Or later in the Photos app.

Talking about video, Apple says, "For iPhone 15 Pro Max, we designed a 5x Telephoto camera with the longest optical zoom of any iPhone ever to fit in our compact Pro camera system...Now you can take sharper close‑ups from farther away — like a phenomenal photo of your friend or a goal in your kid's soccer match."

iPhone Price in India

Talking about the prices, the iPhone 15 has been launched at the same price at which the iPhone 14 made its debut in India last year. The price of the 128GB variant for the iPhone 15 is Rs 79,900 while the 256GB variant costs Rs 89,900. The 512GB variant will be up for grabs for Rs 1,09,900.