Published On
Is Vicky Kaushal a nepo kid or an outsider? Koffee with Karan 7 new episode answers all
In the recent episode of Koffee With Karan, Vicky Kaushal revealed people can't decide whether he is a product of nepotism or not.
Author :
Guneet kaur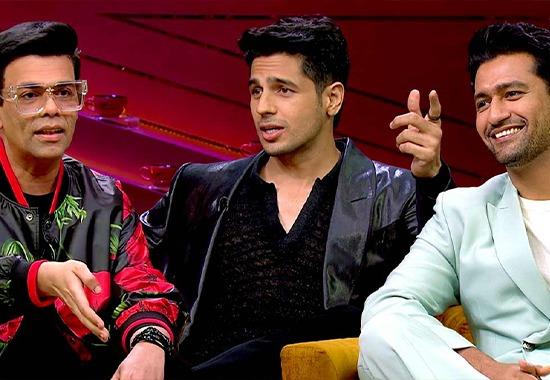 The recent episode of Koffee With Karan was a regular 'Punjabi Episode' as the hot brewing cup of coffee and the couch was graced by two that every girl has a crush on, Vicky Kaushal and Sidharth Malhotra.
As the host was speaking about the entry of both the actors into Bollywood, Sidharth Malhotra said that although he is an outsider, he feels blessed to have started his career with Alia Bhatt and Varun Dhawan that also in a Dharma Movie.
While the topic was being discussed, Vicky Kaushal revealed that fans are still perplexed about that should he be considered a nepo kid or not.
The lesser known fact about Vicky Kaushal is that his father is from the same industry and has earned a lot of name and respect from the industry. He also stated that though his father works in the same industry but, it has never been easier for him to reach where he is today.
He has gone through the same struggle that any other outsider will go that is giving auditions, requesting roles, etc.
He impressed upon the point, "my father made it very clear to me that you have your struggles as I am going to have mine. I have been a person who has seen the whole industry from behind the camera. I don't know anything about craft, so you will have to work on that."
He also said that Arjun Kapoor was the first actor to make him realize that people don't fit him into any category be it a product of nepotism or an outsider.
Even the host of the show, Karan Johar confirmed that Vicky Kaushal played no role in providing him with his debut film. Whatever he has done to reach this point should be considered his struggle.
To see that he is put in which category by the audience will be interesting.