Published On
Jaane Jaan OTT debut: Release date, cast, plot, and how to watch online!
Jaane Jaan, the highly awaited web series directed by Sujoy Ghosh, all set to enthrall audiences on Netflix on September 21, 2023. Author :
Malkit Singh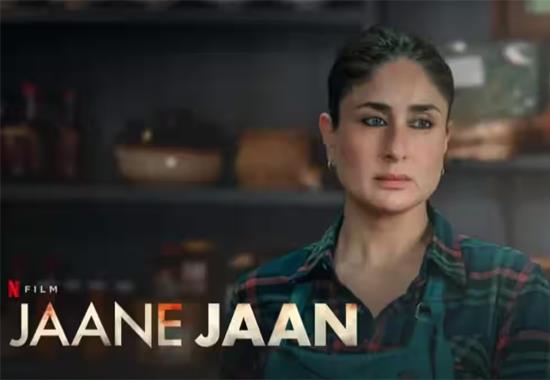 This intriguing production has generated considerable buzz among fans and viewers, largely due to its star-studded cast and the promise of a gripping murder mystery.
Stellar Cast:
The series features the dynamic trio of Kareena Kapoor, Vijay Varma, and Jaideep Ahlawat in lead roles. Kareena Kapoor's return to the screen after a hiatus has fueled excitement, and watching her alongside Vijay Varma and Jaideep Ahlawat, both known for their exceptional acting prowess, is nothing short of enticing.
The Plot Unveiled:
Jaane Jaan unfolds as a riveting murder mystery, with Kareena Kapoor and her daughter as major suspects in a homicide investigation led by Vijay Varma's character.
However, there's more to it than meets the eye, as the plot delves into the dark secrets of their enigmatic neighbor, played by Jaideep Ahlawat.
OTT Debut
This web series marks a significant moment in Kareena Kapoor's career as it marks her debut in the world of OTT entertainment. Directed and written by Sujoy Ghosh, and produced by Shobha Kapoor, Ekta Kapoor, Akshai Puri, and Jay Shewakramani, Jaane Jaan promises to be an edge-of-the-seat thriller.
Also Read: CM announces Steps for 3-Year Exemption for Ludhiana-based Industries relocating to Residential Areas
Satellite Rights and Release
Netflix holds the satellite, digital, and music rights for Jaane Jaan. The series is all set to premiere exclusively on Netflix on September 21, 2023. The acquisition of the satellite rights by Netflix underscores the anticipation surrounding this highly awaited web series.
The Intriguing Trailer
The trailer for Jaane Jaan was unveiled on September 5, 2023, offering a tantalizing glimpse into what lies ahead. Running for 2 minutes and 19 seconds, it teases viewers with intense and violent scenes, powerful dialogues, and stellar performances by Jaideep Ahlawat and Vijay Varma.
Supporting Cast
Apart from the leading trio, the series boasts a talented supporting cast, including Shyam Gopal, Lin Laishram, Saurabh Sachdev, Naisha Khanna, Uditi Singh, and Karma Takapa. This ensemble of actors adds depth to the narrative, promising a well-rounded viewing experience.
Conclusion
Jaane Jaan has all the makings of a thrilling and memorable web series. With its intriguing plot, stellar cast, and Netflix's backing, it is poised to make a mark in the world of OTT entertainment. As the series gears up for its theatrical release on September 21, 2023, audiences can look forward to an immersive and suspenseful experience that will keep them on the edge of their seats.