Published On
Jalandhar: Civil hospital staff protests against vandalism; MLA Angural's brother accused of creating a ruckus with supporters
In Police Station Division No. 4, a complaint has also been made against Rajan Angural, the brother of MLA Sheetal Angural
Author :
Samriti Bharadwaj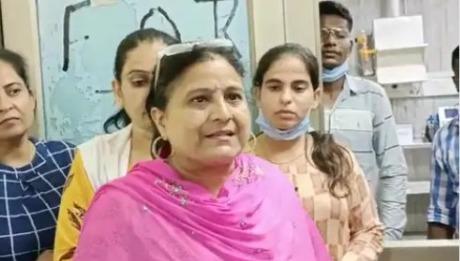 Another controversy in Jalandhar has come to the fore in which the name of Rajan, the younger brother of Jalandhar West MLA Sheetal Angural, who was brought to the hospital as injured in a fight in the night, has also been involved in misconduct in the hospital. In Police Station Division No. 4, a complaint has also been made against Rajan Angural, the brother of an MLA.
The hospital staff today staged a protest against the vandalism in the hospital. The staff objected, saying that the disturbance in the hospital's emergency ward at night would have endangered the safety of the night staff as well. The staff accused the people of hooliganism in the hospital at night and that they were stopped from work, they were pressurized in the name of the MLA.
The same person said that the night shift doctors were under pressure to treat patients and provide medical legal reports. The staff has also complained to the police about the entire situation.
However, when asked, Civil Surgeon Raman Kumar refrained from naming MLA Sheetal Angural's brother but admitted that some people ransacked the hospital at night. Whose complaint he has given in the police station and asked to register a case. The Civil Surgeon stated that they currently don't know under which sections of the Indian Penal Code the police have filed the complaint.
Meanwhile, the head of the Nursing Staff Union publicly said that the younger brother of MLA Sheetal Angural had come to the hospital. He was accompanied by others who entered the hospital, vandalized it, and engaged in hooliganism. She said that all the people tried to put pressure on her by using the name of the MLA.