Published On
Jalandhar: Civil hospital's staff furious over non-action on MLA Angural's brother; says- Will stop the work if FIR is not filed
The doctors and staff have given an ultimatum to the police administration to register an FIR against MLA's brother
Author :
Samriti Bharadwaj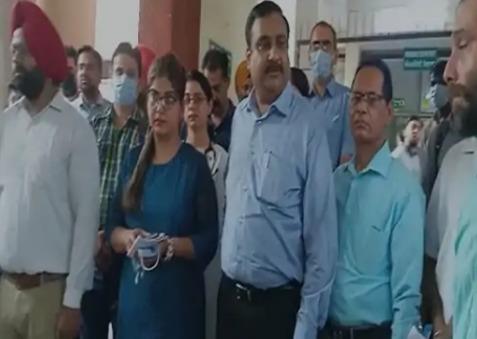 Another controversy in Jalandhar has come to the fore in which the name Rajan, the younger brother of Jalandhar West MLA Sheetal Angural has been involved in misconduct in the hospital. The doctors and staff have given an ultimatum to the police administration that if an FIR is not registered against Rajan Angural, brother of Jalandhar West MLA Sheetal Angural, by tomorrow, then all the work in the hospital will come to a standstill.
On Friday, the staff also showed their rage in opposition to the hospital vandalism. During the protest, slogans were also raised against the MLA. The medical staff alleges that Rajan Angural, the brother of MLA Sheetal Angural, engaged in hooliganism there while he was accompanied by a large group of people. In addition, the evening doctor was under pressure to create a particular medical-legal report.
The staff claimed that with such a crowd, Rajan, the brother of MLA Sheetal, entered the hospital and caused a ruckus. The patients' families were also affected by this, which was troublesome. Any person working in the hospital at night could have been harmed by the way they trashed it. 
The PCMS Association Joint Action Committee protested outside the emergency ward regarding the uproar that took place in the Civil Hospital late on Wednesday night. Seeing the fury prevailing among the hospital staff, MLA Raman Arora has also reached the Civil Hospital. He is holding meetings with the employees' unions and doctors in the medical superintendent's office to sort out the matter.
There doesn't seem to be any solution at the moment. The employees and doctors are adamant about registering a case against Rajan Angural, brother of MLA Sheetal Angural, under sections contained in the Indian Penal Code for vandalism in the hospital, felony, and obstructing official work.