Published On
Jalandhar: Communal tension in Maqsudan's Nadanpur village as Catholic church vandalised by miscreants
The vandalism took place in the Catholic Church in Nandanpur village near Maqsudan police station. Author :
Ujjwal Samrat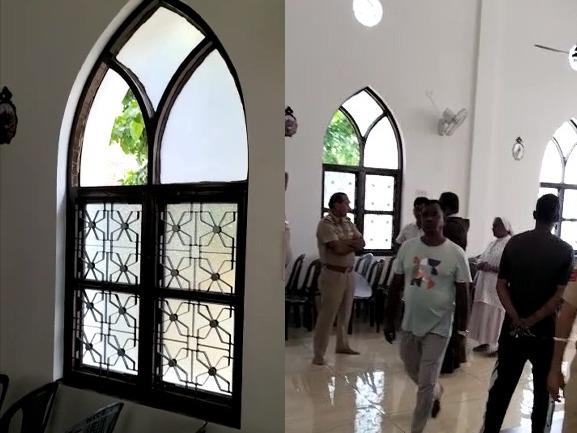 The row over vandalism of churches escalated in Punjab after a Catholic church in Maqsudan's Nadanpur village was vandalised. The vandalism of Jalandhar Maqsudan's church comes days after a statue of Lord Jesus was destroyed by a group of miscreants in Tarn Taran. The vandalism took place in the Catholic Church in Nandanpur village near Maqsudan police station. Reportedly, miscreants broke the glasses of the Catholic Church and also vandalised many properties belonging to the church.
As per Church's manager, the vandalism of their religious place by the miscreants is an attempt to hurt the sentiments of the Christian brotherhood. Furthermore, the Church's manager warned the administration that if these kinds of incidents do not stop then they will stage protest against them on a large scale. The manager also added that such action and reaction can spoil the communal atmosphere of Punjab and then the Police will be held responsible for this.
After Jalandhar Maqsudan church vandalism came to the fore, the SHO of Maqsudan Police Station Manjit Singh Randhawa reached to the spot with his Police party. Reportedly, a can has been registered and the Police have started their investigation. Despite the Police taking cognizance of the matter, communal tensions prevailed in the Nandanpur village. The manager demanded from SSP Jalandhar Dehati Santdeep Singh to probe the matter seriously and ensure the 'strictest punishment' for the culprits.
Watch Jalandhar Maqsudan Catholic Church Vandalism video
Punjab, Tarn Taran: Church Vandalized, statue of Lord Jesus destroyed, pastor's car set ablaze; Watch Video
Tarn Taran Church vandalism
The vandalism of church is not new in Punjab. A few days back, communal tensions flared after a group of people forcefully entered a church in Tarn Taran and vandalized the statue of Lord Jesus and Mother Marry. Not only this but the car of the Pastor parked inside the church premises was also set ablaze. The shocking incident took place in Tarn Taran's Thakarpur village. The Tarn Taran church vandalism incident took place after the Akal Takht Jathedar, head of the highest temporal seat of the Sikhs, issued a statement against 'forced conversions' of Sikhs by Christian missionaries. Notably, two days before the Tarn taran church vandalism incident, Nihang Sikhs had also protested against 'forced conversion'.
Before the incident, an ongoing program of Christians in Jandiala Guru's village Dandua was also stopped by the Nihangs. A case was registered against 150 Nihangs after this incident as they destroyed everything in the program. The Jathedar of Sri Akal Takht Sahib, Giani Harprit Singh had issued a statement opposing the government to register the case against Nihangs. He said, "the Christian priests are misleading Hindus and Sikhs by hypocrisy and getting them converted. Many times, Nihangs complained about this, but the government did not listen to them."