Published On
Jalandhar tourist tragedy in Dharamsala: 32-year-old drowns in canal near Bhagsu Nag waterfall
Jalandhar visitor's life cut short by canal mishap near Bhagsu Nag waterfall Author :
Rakesh Behal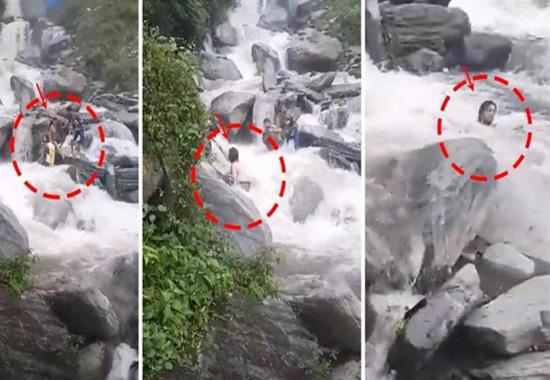 Dharamsala (HP), September 17
In a heart-wrenching incident, a 32-year-old tourist from Jalandhar, Punjab, met a tragic end while enjoying a day out near the picturesque Bhagsu Nag waterfall in Dharamsala. The incident occurred on Saturday, casting a pall of sadness over the serene Himachal Pradesh hill station.
Bathing Turned Fatal
The victim, identified as Pawan Kumar, had been relishing a leisurely bath near the waterfall when a sudden and powerful surge in the canal's currents altered the course of the day. Despite the efforts of friends who were accompanying him, Pawan was swiftly swept away by the forceful waters.
Prompt Response by Authorities
Authorities were alerted to the emergency by Amit Kumar, one of Pawan's friends who witnessed the tragic incident unfold. McLeodganj police, acting swiftly, joined forces with the State Disaster Response Force (SDRF) to initiate a search and rescue operation in a bid to locate Pawan Kumar.
A Heartbreaking Discovery
Tragically, the search efforts culminated in the discovery of Pawan's lifeless body approximately 100 meters downstream from where the incident occurred. The news of his demise has left family members and friends in a state of profound grief.
Post-Mortem and Family Handover
ASP Bir Bahadur of Kangra revealed that Pawan Kumar's body would undergo the necessary post-mortem procedures. Following this, his remains will be tenderly handed over to his grieving family members.
This unfortunate incident serves as a poignant reminder of the unpredictable nature of natural attractions, emphasizing the importance of caution and vigilance while enjoying such environments, particularly when water levels are elevated.
The tragic loss of a young life has cast a shadow over what was meant to be a day of leisure and recreation in the scenic landscapes of Dharamsala.