Published On
Jio unveils JioAirFiber: High-speed broadband and digital services across 8 metro cities
JioAirFiber connects homes and businesses, revolutionizing entertainment, broadband, and smart home services Author :
Malkit Singh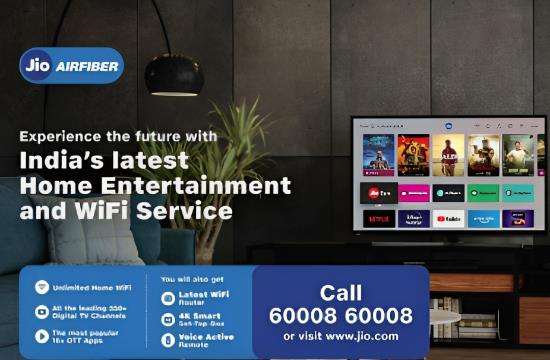 Jio, the world's largest private mobile data network, has introduced JioAirFiber services, marking a significant leap in high-speed broadband and integrated digital solutions. This revolutionary service is now live in eight major Indian cities, coinciding with the auspicious occasion of Ganesh Chaturthi.
Key Highlights:
JioAirFiber is set to tackle the challenge of last-mile connectivity, aiming to connect every home and small business, propelling India into a premier digital society.
This integrated service offers a seamless transition for TV and broadband users, elevating them to a world-class home entertainment and digital experience.
JioAirFiber's Comprehensive Offerings:
Digital Entertainment:
• Access to over 550 leading digital TV channels.
• Catch-up TV for viewers' convenience.
• Subscriptions to 16+ popular OTT apps for versatile content consumption
Broadband Service:
High-speed WiFi coverage for complete premises
Smart Home Services:
• Cloud PC for education and work-from-home.
• Security and surveillance solutions
• Healthcare, education, smart home IoT, gaming, and home networking
Home devices at no additional cost:
• WiFi router for extensive coverage.
• 4K Smart Set-Top Box
• Voice-activated remote control.
Also Read: Ludhiana police's swift action: Cracks multi-crore robbery case in record 5 days
Efficiency in Connectivity:
Despite Jio's extensive optical fiber infrastructure covering over 1.5 million kilometers across India, extending physical last-mile connectivity can be a time-consuming process. JioAirFiber aims to accelerate this connectivity by bringing world-class digital services to more homes rapidly.
Jio's Commitment:
Akash Ambani, Chairman of Reliance Jio Infocomm Limited, emphasized Jio's commitment to extending its addressable market to cover every Indian home. JioAirFiber is set to provide millions of homes with top-notch digital entertainment, smart home services, and broadband.
JioAirFiber Plans:
JioAirFiber offers value-driven plans similar to JioFiber, encompassing digital TV, OTT content, high-speed broadband, and smart home services.
Booking JioAirFiber:
Interested users can book JioAirFiber services by giving a missed call to 60008-60008 on WhatsApp, visiting www.jio.com, or visiting a nearby Jio Store.
Once registered, Jio will promptly connect homes as soon as services are available in the respective building.
About Reliance Jio Infocomm Limited:
Reliance Jio Infocomm Limited, a subsidiary of Jio Platforms Limited, has revolutionized digital services in India, enabling the vision of Digital India for millions. With a future-ready network, Jio continues to pioneer advancements in digital connectivity and content delivery.
For further information, please contact:
Jio.CorporateCommunication@ril.com
022-79653591