Jon Hamm & Anna Osceola marriage: A timeline of how the couple met & their love story
Jon Hamm recently got married to Anna Osceola after 3 years of dating. They tied the knot at Anderson Canyon in Big Sur, California- an iconic Mad Men Location.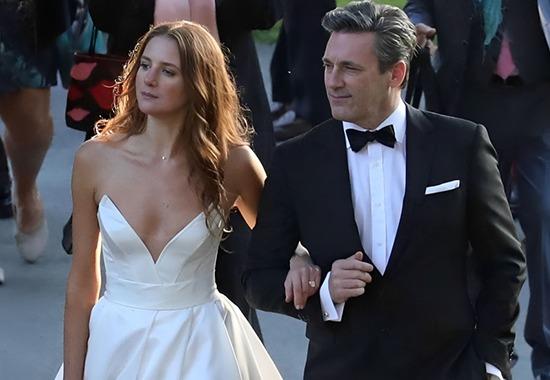 -

Jon Hamm married longtime girlfriend Anna Osceola on Saturday, June 24, at an outdoor ceremony. They exchanged their vows at Anderson Canyon, a well-known Mad Men locale in Big Sur, California. John Slattery, their Mad Men co-star, was present to witness Osceola, 35, and Hamm, 52, say "I do." In addition to the other famous guests, Billy Crudup, Paul Rudd, Tina Fey, Brooke Shields, and Larry David attended the event. The bride walked down the aisle in a strapless white gown with a plunging neckline and low back. The high slit showed off her legs as she walked. She also carried a bouquet of pale pink peonies.

How did the couple meet?

Their chance encounter during the set of "Mad Men" in 2015 significantly altered Jon Hamm's life. It not only catapulted him into the public eye and assisted the actor in beginning a successful career, but it also introduced him to his future wife. Jon, met Anna Osceola, eight years ago when she appeared in one episode of the popular AMC show as a receptionist. When their paths first crossed, Jon was in a relationship with actress Jennifer Westfeldt, and just months after he met Anna, word of their breakup after an incredible 18 years together surfaced online. Nobody at that time thought that the reason for the split might be Jon Hamm's, Mad Men co-star. Years later, when the both got romantically involved, speculations raised that maybe this was the reason for their breakup. Whether Anna's influence in the breakup was significant or not, it was obvious that she and Jon had a close bond because they eventually fell head over heels in love.

Eldorado Everything the Nazis Hate True Story: How Hitler's rise to power changed Berlin's nightclub?

There were brief rumors that they were dating in 2017, after photos emerged of them exiting a coffee shop together, that seemed to quickly fizzle out. Later, the couple's relationship was mentioned in May 2020, and as soon as it became public knowledge that they were dating, Jon and Anna began displaying their affection for everyone to see. They were spotted showing off their PDA, taking luxurious vacations together, and attending red carpet events side-by-side. Anna even succeeded in persuading the actor to modify his disapproving attitude about marriage. They took a vacation to Italy together in September 2021.They also appeared on the red carpet in March 2022 at an Oscars afterparty. They also made another appearance on the red carpet in May for the Sarah Silverman comedy Bedwetter, attended the 2022 ESPY Awards in July, and attended a screening for their film Confess, Fletch barely two months later.

The couple exchanged their vows, 13 years after Jon swore he'd never settle down. Jon previously admitted that he had no interest in ever walking down the aisle, but in a 2022, he revealed that everything had changed once Anna came into his life. He credited her with inspiring him to get therapy for the trauma he endured as a child following the death of his mother - which ultimately gave him a newfound drive to become a family man.