'Shameful Justin Trudeau': Elon Musk lambasts Canadian PM for 'trying to crush free speech'
Canada Prime Minister Justin Trudeau is already under fire for accusing India of carrying out the assassination of a Canadian Citizen Hardeep Singh Nijjar who was declared a terrorist in India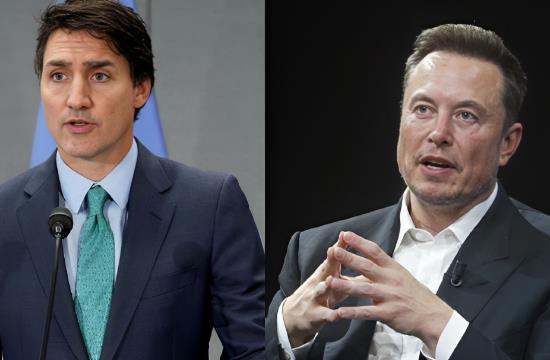 -

Tesla Founder and social media X boss Elon Musk on Monday came down heavily on Canadian Prime Minister Justin Trudeau for 'crushing free speech' after his government made it compulsory for online streaming services to formally register with the government for 'regulatory controls'. Canada Prime Minister Justin Trudeau is already under fire for accusing India of carrying out the assassination of a Canadian Citizen Hardeep Singh Nijjar who was declared a terrorist in India for his anti-India activities and carrying out targeted killings. Elon Musk's scathing remarks against Justin Trudeau have totally exposed the Canadian Prime Minister who has made his image around the world as the 'champion' & flag bearer of free speech.

Elon Musk took to his X handle, formerly known as Twitter, and wrote, "Trudeau is trying to crush free speech in Canada. Shameful." Musk's comment came after the Canadian Government led by Trudeau announced a veiled censorship of online streaming shows and podcasts. Musk responded to journalist Glenn Greenwald who shared a press release saying, "The Canadian government, armed with one of the world's most repressive online censorship schemes, announces that all "online streaming services that offer podcasts" must formally register with the government to permit regulatory controls."
Trudeau is trying to crush free speech in Canada. Shameful. https://t.co/oHFFvyBGxu

— Elon Musk (@elonmusk) October 1, 2023
It is pertinent to mention here that it is not the first time, Justin Trudeau has come under the scanner of curbing free speech in his nation. In February 2022, the Canadian Prime Minister invoked emergency powers - for the first time in the country's history - to arm his government with more power to respond to the trucker protests, who were opposing the vaccine mandates at that time.
What did the Canadian government's latest censorship announcement say?
Also Read: US misses the 'bigger picture' on row with Canada, says Jaishankar
As per the official release, "the CRTC is setting conditions for online streaming services to operate in Canada. These conditions take effect today and require certain online streaming services to provide the CRTC with information related to their content and subscribership. The decision also requires those services to make content available in a way that is not tied to a specific mobile or Internet service...A third consultation is ongoing. It considers contributions traditional broadcasters and online streaming services will need to make to support Canadian and Indigenous content. The CRTC will hold a three-week public proceeding starting on November 20, 2023, and will hear from 129 intervenors representing a broad range of interests."
The Canadian government's release also wrote a breakdown of their order-
Social media services must register; however, users do not.
Online services that offer podcasts must register; however, individuals who use social media to share podcasts do not.
Online services that only provide video game services or audiobooks do not have to register.
A list of registered services will be published on the CRTC's website.