Published On
Kangana Ranaut's 'Aaj Mera Ghar toota' video warning Uddhav Thackeray goes viral amid Maha political crisis
In the video, Kangana said, "Uddhav Thackeray Tujhe kya lagta hai ki tune film mafia Ke Saath milke Mera Ghar take Mujhe about bad badla Liya hai?
Author :
Rohit Gupta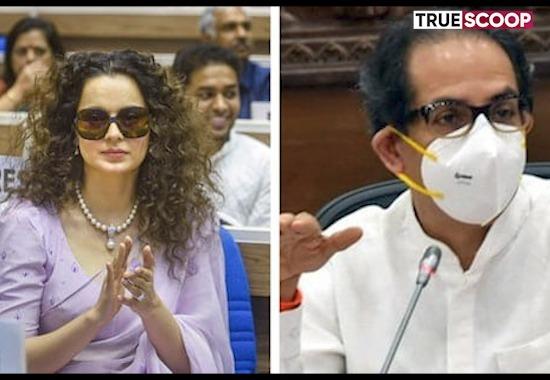 Kangana Ranaut vs Uddhav Thackeray: The political hustle and bustle of Maharashtra are not taking its name to stop. Ever since Eknath Shinde, a minister in the Maharashtra government, went missing along with the Shiv Sena MLAs, the Uddhav government has come under threat. Amidst the ongoing political crisis in Maharashtra, the statements of Amaravati MP and Bollywood actress Kangana Ranaut are in the headlines.
Amravati MP Navneet Rana went to jail with her husband over the Hanuman Chalisa controversy. Apart from this, BMC took action at Kangana Ranaut's house after the controversy over the death of Sushant Singh Rajput. Both these women had told some things to the Uddhav government. After the ongoing political crisis in Maharashtra, the statements of these two women are making headlines.
The Shiv Sena Government chief Uddhav Thackeray is running with the support of NCP and Congress. Ever since he took power, he has faced many problems. Many faces in front of him stood in front of him on different issues. These include MPs Navneet and Kangana Ranaut. Both these women opposed Uddhav Thackeray and they were also punished for this. In such a situation, people are speculating whether the words both the women said about the Uddhav government are coming true?
Actually, on the 'Ajjan' controversy, MP Navneet Rana had asked Uddhav Thackeray to read Hanuman Chalisa. On not doing so, Navneet had spoken of reciting Hanuman Chalisa at Uddhav Thackeray's house. After this Navneet was arrested and he also had to go to jail. After this Navneet challenged Uddhav Thackeray to contest the elections.

Watch Viral Videos:
She had said that "go among the public and win the election and show it. You have to show who comes before women's power, honesty." The Hanuman Chalisa issue seems to have weighed heavily on the Hindutva image. That is why the Uddhav government is going through a difficult phase today.
In the video, Kangana said, "Uddhav Thackeray Tujhe kya lagta hai ki tune film mafia Ke Saath milke Mera Ghar take Mujhe about bad badla Liya hai? Aaj Mera Ghar toota hai Kal tera amends to omega. Yeh Waqt ka pahiya hai Yaad rakhna hamesha Ek jaisa nahin rehta." (Uddhav Thackeray you think by demolishing my home and siding with film mafias, you have taken revenge on me? Today my house has been demolished, tomorrow your arrogance will be broken.)