Kareena Kapoor breaks silence on her feud with Ameesha Patel; calls Karan Johar a troll
Koffee with Karan Season 8 host Karan Johar asked Kareen Kapoor Khan why she did not attend the Gadar 2 success party where Ameesha Patel was present.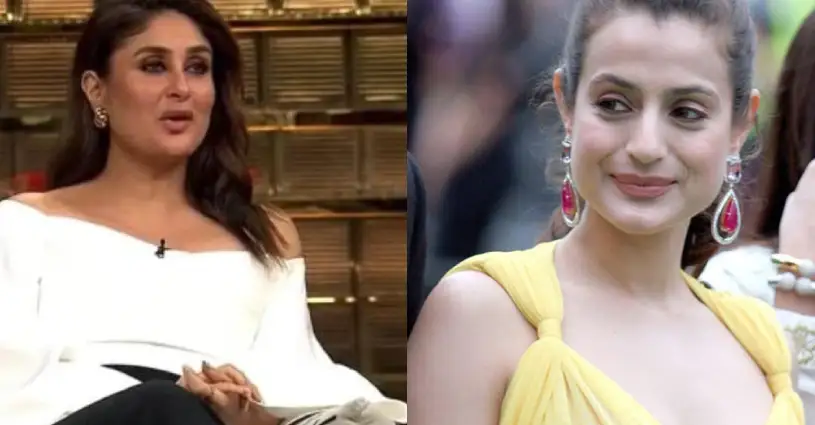 -

Bollywood actress Kareena Kapoor Khan recently appeared on the Koffee with Karan Season 8 along with Alia Bhatt and opened up about her married life, her kids, and even her 'history' with Ameesha Patel. Although there were many revelations that were made by both Alia and Kareena, it was questions on Kareena Kapoor's history with Ameesha Patel that grabbed the attention. As a result, Kareena Kapoor Khan finally addressed the feud between her and Gadar 2 actress Ameesha Patel.

Koffee with Karan Season 8 host Karan Johar asked Kareen Kapoor Khan why she did not attend the Gadar 2 success party. Is it because of her history with Ameesha Patel? asked Karan Johar. At first, Kareena tried to skip the question, but then she answered and said-

"I wasn't in town. The only history I know is her movie made history." Karan asks, "You were meant to do Kaho Na Pyar Hai." She has gone on record saying, "Thank you Kareena...So what you would say?"

Kareena answers, "I think films are destiny. Everyone went on to do their best." Karan reverted, "I don't want you to give Oscars speech. I am just saying that you did not attend the party."

Kareena asks, "Did you attend the party." Karan answers, "Yes! I was at the party."

Karan then emphasizes, "I want to know why you did not attend the party." Kareena answers, "I was not in the town." Karan Johar stated that Kareena was lying. Irritated by this, Kareena asked, "Karan are you a troll?"

On being asked whether Kareena congratulated the Gadar 2 starcast over call or message? Kareena said, "I am congratulating them now, here on the show."

It is pertinent to mention here that judging by Kareena's looks and Karan's revelation that the actress is lying, it is quite evident that all is not well between Ameesha Patel and Kareena Kapoor Khan.
Kareena Kapoor Khan-Ameesha Patel's feud
Kaho Naa… Pyaar Hai was released in 2000. The movie was directed by Rakesh Roshan and launched the careers of both his son Hrithik and Ameesha. It was originally meant to star Kareena Kapoor who exited the film and instead made her debut in Refugee with Abhishek Bachchan.
Ameesha in an interview with an entertainment portal had said, "Actually, she didn't back out. From what Rakesh ji told me, he asked her to leave the film because they were having differences. Pinkie [Roshan] aunty, his wife and Hrithik's mom, said that they were shocked because the set was ready, and a replacement Sonia had to be found in three days, and crores of rupees (had been spent) on that set, and it was Hrithik's debut and everyone was stressed."