Published On
Kerala: Woman's bridal photoshoot on a road full of potholes is a must-watch; Video Viral
The video that has crossed around 4 million views shows a beautiful bride walking on a road full of potholes
Author :
Guneet kaur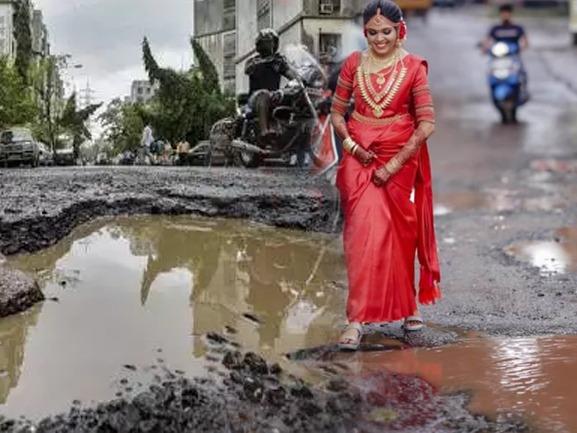 The wedding day is the most special day of everyone's life. Every person who is present there wants to get the best moment captured so that it can be remembered for a lifetime. This time something unusual happened in Kerala where the bride ditched all the fancy photoshoots and opted to bring out the reality of her state.
A video has been surfacing on all social media platforms and has got views of over 4 million in a small period. In the video, a beautiful and graceful bride can be seen all dressed up for her wedding, walking on a road full of potholes filled with muddy water. It has become the most unique video of getting the wedding photoshoot done.
The video further shows different vehicles passing by and the bride trying to manage to walk on the road without falling. A videographer can also be seen who is capturing the bride in the best way possible. The video has been posted on an Instagram handle by a page named 'Arrow_weddingcompany'. The video has been captioned "Bridal photoshoot in the middle of the road."
The bride shown in the video is wearing a bright red saree with beautiful jewelry and complimented her look with a wonderful smile.
From the time the video has gone viral, the netizens can't keep up as in their opinion they are impressed with how the bride has decided to point out the main problem of Kerala state in the most beautiful manner.
This is not the very first time that this serious issue has come up in the most creative ways. A few days back, one social activist was seen rolling on the roads full of potholes to protest against it. Not only this but today morning a pothole from Banglore got marked on Google Maps. From the time it has been done people can't stop themselves from giving it ratings and providing their earnest reviews about the same. Also, another activist from Thane sat inside a pothole to urge the authorities to take some steps to solve the problem.
Watch Video