Published On
Ketki Chitale post on Sharad Pawar: Case filed against Marathi actress over derogatory 'poem'
Ketki Chitale poem was shared by the Marathi actress on her Facebook in response to Sharad Pawar's criticizing the BJP
Author :
Malkit Singh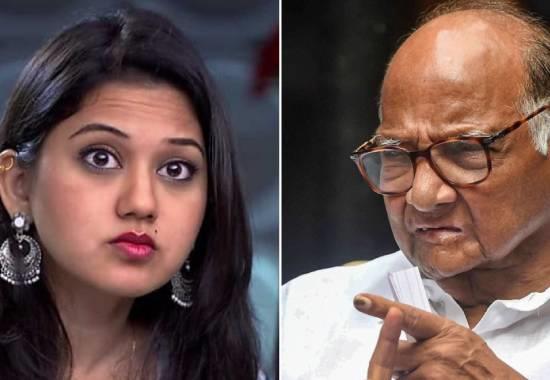 Trouble seems to be mounting upon Ketki Chitale as a case has been filed against the Marathi actress for posting a derogatory poem against the
NCP Chief Sharad Pawar
. Marathi actress Ketki Chitale poem on Sharad Pawar went viral in time after she posted it on her Facebook. The Ketki Chitale Sharad Pawar poem came at a time when the NCP Chief had shared a post himself criticising the BJP over its policies.
As per reports, Ketki Chitale poem was shared by the Marathi actress on her Facebook in response to Sharad Pawar's criticizing the BJP. Furthermore, reports suggest that Ketaki Chitale had shared a poem written by a person named Advocate Nitin Bhave on her Facebook post after Sharad Pawar posted a poem by Jawahar Rathore. Ketki had posted her in a reply to that poem.
As a result, NCP leader and office bearer Swapnil Netke has filed a case against the actress at Kalwa police station. NCP leader Swapnil was quoted saying that Ketki Chitale poem on Sharad Pawar has attempted to create an animosity between two political parties. Furthermore, Ketki Chitale Sharad Pawar poem may also hamper law and order as it has not gone down well among the party leaders and people.
"Actress Ketki Chitale has posted a defamatory post against Sharad Pawar. It has caused outrage among party leaders, activists and the people. The question of law and order may also arise due to such posts. Ketki has created animosity between the two political parties by posting such posts. We have lodged a complaint with the Kalwa police station alleging that Ketki had made a defamatory post against Sharad Pawar. She is likely to be arrested in the case," said NCP leader Swapnil Netke.
It is pertinent to mention here that Ketki is quite active on social media and she does not hold back on expressing herself, especially on the reckless comments given by political leaders. She has worked in some TV series and became a household name through the series "Tuz Maaz Break-Up".
Free Press Journal quoted a police official linked to the case who said, "A case under IPC section 500, 505(2), 501 and 153 (A) has been registered against Ketaki at Kalwa police station."
Read Ketki Chitale poem on Sharad Pawar