Khaira's arrest won't jeopardize the INDIA Alliance, Congress affirms
Congress remains resolute in coalition despite MLA's detention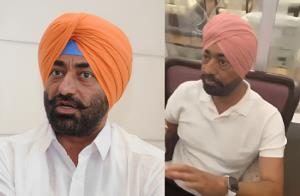 -

New Delhi, September 29: The Congress party has issued a resolute declaration, asserting that the recent arrest of its MLA, Sukhpal Singh Khaira, will not undermine the integrity of the INDIA alliance, which notably features the ruling Aam Aadmi Party (AAP) in Punjab.

Despite the detention of Sukhpal Singh Khaira in connection with a drug trafficking case, the Congress has conveyed its unwavering confidence in the durability of the alliance. This announcement comes as a testament to the party's commitment to maintaining a united front within the coalition.

The arrest of Khaira, a prominent Congress MLA, prompted strong criticism from the party, which condemned it as an example of vendetta politics against the opposition. However, the Congress spokesperson, Supriya Shrinate, emphasized that the alliance's unity would remain unaffected by this development.

Shrinate further stressed the importance of opposing any actions that appear to suppress free speech and target opposition members for political reasons. In response to concerns regarding the frequency of opposition alliance meetings, she clarified that discussions were actively taking place via phone calls and online platforms.

The arrest of Sukhpal Singh Khaira in a 2015 drug trafficking case by the Punjab Police has drawn attention and criticism. Despite this, the AAP, in power in both Punjab and Delhi, affirmed its commitment to the INDIA alliance and its unwavering determination to combat the drug menace. AAP leader Arvind Kejriwal refrained from commenting on individual cases, directing inquiries to the Punjab Police.

As the political landscape evolves, the Congress party remains steadfast in its alliance with the AAP and other members of the INDIA coalition, signaling a collective commitment to a united opposition front.