Published On
Know all about Suella Braverman, the Indian-origin Home Secretary in the UK cabinet led by Liz Truss
She was announced as the Home Secretary in Liz Truss's cabinet on Tuesday.
Author :
Guneet kaur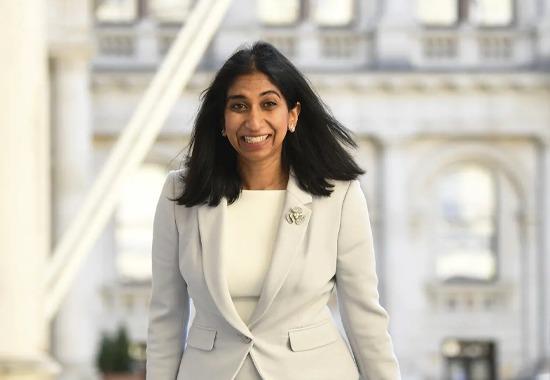 Liz Truss was announced as the winner of the internal vote of conservative party members on Monday and became the Prime Minister of the United Kingdom by defeating Rishi Sunak. After joining the post, Liz Truss announced an Indian-origin woman as her Home Secretary.
Indian-Origin Suella Braverman has now been appointed as UK's home secretary succeeding her colleague Priti Patel. She is the only woman minister of Indian origin to have been inducted into the cabinet by the 56th Prime Minister of Britain, Liz Truss.
Suella Braverman earlier held the post of Attorney General in Boris Johnson's led government.
The 42-year-old Indian-origin home secretary was also among the first contenders in the race to replace former Prime Minister Boris Johnson.
Talking about her personal life, Suella is a daughter of a Hindu Tamilian mother and a Goan origin father. She is a mother to two children. Suella's father shifted to Kenya in the year 1960. She holds British citizenship as she was born in London.
She revealed that she is settled in the UK because her parents loved Britain as it gave them hope and security. She also added that her background has led her into politics and her interest in the field has made her reach where she stands today. She got married in the year 2018. Giving insight into her education, Braverman is a law graduate from Cambridge University.
The main challenge that Braverman would face is a crackdown on channel crossings by the migrants and deporting them back to their own country. It is a challenge as the former home secretary failed to do so.
Suella Braverman shared this news through her Twitter handle by saying that she feels extremely delighted to be elected into Liz Truss's cabinet. She added, "I'm confident she will take the bold action needed to get all of us through these tough times, grow our economy, and unleash the potential of the UK."
Incredibly honoured to be appointed by the Prime Minister to serve our country as Home Secretary.

Thank you for the opportunity @trussliz https://t.co/qwbWKECobI

— Suella Braverman MP (@SuellaBraverman) September 7, 2022