Published On
Know Apple's new Lock Screen feature, more ways to share, communicate in iOS 16
Apple introduces a personalized Lock Screen feature, keeps family photos in iCloud Shared Photo Library, recalls sent messages, and discovers more with Live Text and Visual Look Up.
Author :
Chanderveer Singh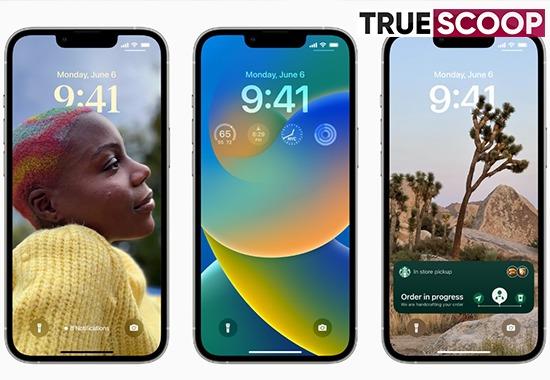 Apple today foretasted iOS 16, bringing the unprecedented update to the Lock Screen, and new sharing, communication, and intelligence features that together change the way users experience iPhone. iOS 16 users can use iCloud Shared Photo Library to seamlessly share a collection of photos with family, updates to Messages and Mail that help users stay in touch with ease, and powerful enhancements to Live Text and Visual Look Up.
"iOS 16 is a big release with updates that will change the way you experience iPhone," said Craig Federighi, Apple's senior vice president of Software Engineering. "We have reimagined how the Lock Screen looks and works with exciting new features that make it more personal and helpful, introduced iCloud Shared Photo Library for families, streamlined communication through new capabilities in Messages and Mail, and harnessed enhanced intelligence with updates to Live Text and Visual Look Up."
The Lock Screen gets more personalized features and is helpful with iOS 16. With a new multilayered effect, the subjects of photos are artfully set in front of the time on the Lock Screen. Change the look of the date and time with expressive type styles and color choices is also available.
The Lock Screen features take inspiration from Apple Watch complications, making it easy to get information at a glance.
A new Lock Screen gallery features a range of options for inspiration, such as Apple collections, which include Pride and Unity to celebrate the special cultural moment.
Live Activity is a new feature that helps users stay up to date, on what is happening in real-time, such as a sports game, workout, or ride-share right from the Lock Screen. Notifications have been redesigned to roll up from the bottom.
Find Balance with Focus
Focus is more powerful and now connects to the Lock Screen, offering users a way to tie a Lock Screen wallpaper and widgets to a particular Focus.
One Place for Family Photos with iCloud Shared Photo Library
iCloud Shared Photo Library provides families a new way to share photos seamlessly with a separate iCloud library that up to six users can collaborate on, contribute to, and enjoy. Users can choose to share existing photos from their libraries or share based on a start date or people in the photos.

New features to Messages
iOS 16 users can edit or recall recently sent messages, recover recently deleted messages, and mark conversations as unread so they can come back to them later. In addition, SharePlay is coming to Messages, making it possible to enjoy synced content like movies or songs.
New features for Mail
Now iOS 16 users can schedule emails and are even given a moment to cancel delivery of a message before it reaches a recipient's inbox. Mail will detect if the user forgot to include an important part of their message, such as an attachment. Mail also adds the biggest overhaul to search and uses state-of-the-art techniques to deliver more relevant, accurate, and complete results. Users see recent emails, contacts, documents, and links the moment they begin to search for emails.
Live Text and Visual Look Up Enhancements
Live Text uses on-device intelligence to recognize text in images across iOS, and it is now expanding to include video. Users can pause a video on any frame and interact with the text. Live Text also adds the ability for users to quickly convert currency, translate text, and more.

Visual Look Up takes photos further by introducing a new feature that allows users to tap and hold on the subject of an image to lift it from the background and place it in apps like Messages. Visual Look Up also expands to recognize birds, insects, and statues.
Wallet Adds Apple Pay Later, Order Tracking, and Other Features
Apple Pay Later provides users in the US with a seamless and secure way to split the cost of an Apple Pay purchase into four equal payments spread over six weeks, with zero interest and no fees of any kind.3 Built into Apple Wallet and designed with users' financial health in mind, Apple Pay Later makes it easy to view, track, and repay Apple Pay Later payments within Wallet. Users can apply for Apple Pay Later when they are checking out with Apple Pay, or in Wallet.
The Next Generation of CarPlay
CarPlay has completely changed the way people interact with their vehicles, and the next generation of CarPlay goes even further by integrating with a car's hardware. CarPlay will be able to provide content for multiple screens within the vehicle, creating an experience that is unified and consistent. Deeper integration with the vehicle will allow users to do things like controlling the radio or changing the climate directly through CarPlay and using the vehicle data, CarPlay will seamlessly render the speed, fuel level, temperature, and more on the instrument cluster. iOS 16 users will be able to personalize their driving experience by choosing different gauge cluster designs, and with added support for widgets, users will have at-a-glance information from Weather and Music right on their car's dashboard.