Published On
Know the political impact of 'Operation Lotus' on AAP and BJP
According to Cheema, offers worth Rs 25 crore each was made to 10 AAP MLAs within a week.
Author :
Samriti Bharadwaj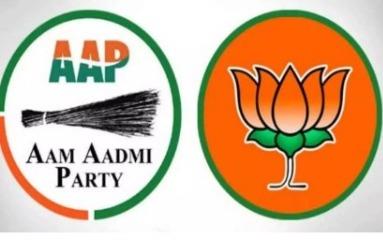 BJP has been accused by the Aam Aadmi Party's Punjab cabinet and Finance Minister Harpal Singh Cheema of trying to topple the AAP government in Punjab. He said that BJP is trying to buy MLAs of his party for Rs.25 crores. BJP has fixed a fund of Rs 1375 crore for 52 MLAs of AAP.
According to Cheema, offers worth Rs 25 crore each was made to 10 AAP MLAs within a week. Cheema supported his assertion with the recordings he had on hand, but he deferred to an investigation on the issue of who the caller on the recording was. The identities of those who called the MLAs would be made public shortly after the investigation, according to Cheema.
Now let's take a look at the political importance and impact of 'operaton Lotus' on the Aam Aadmi Party and Bharatiya Janta Party:
The BJP's support base in Punjab is far from the majority. The BJP only holds 2 seats in its share in Punjab, whereas AAP has an absolute majority. The majority number of 52 is far off, even if the BJP joins 10 Aam Aadmi Party MLAs. Why would the BJP take such a risk when the Gujarat elections are just around the corner?
Similar to Operation Lotus in Delhi, the BJP is charged with procuring AAP MLAs through middlemen in Punjab; however, instead of revealing the identity of the middlemen, Cheema is calling it a subject of investigation.
If all AAP MLAs are, as the Bhagwant Mann government asserts, free from corruption and honest, why are they so wary of CBI and ED raids? Cheema's assertions that the BJP is pressuring the MLAs to join the party by threatening raids or calling for immediate action.
BJP currently does not have any face with whom the majority figure can be touched power can be changed.
Reacting to this, BJP, Congress, and other parties are calling them baseless political drama. Punjab Congress President Raja Warring said that if so why did AAP not complain to the Punjab Police, as Punjab Police is not under the Centre, like Delhi.
In Delhi, the Aam Aadmi Party was charged with excise policy. In Punjab, there have also been accusations of malfeasance. Manish Sisodia's home and other locations connected to him have been searched by the CBI. Additionally, this has caused alarm among AAP MLAs. Now Cheema's claim of having a recording is being considered by it a false warning to AAP MLAs.