Published On
Anti-Prophet Md issue: Arab countries' annoyance to prove costly, know why Arab nations important for India
Gulf countries are one of India's major partners. Author :
Chanderveer Singh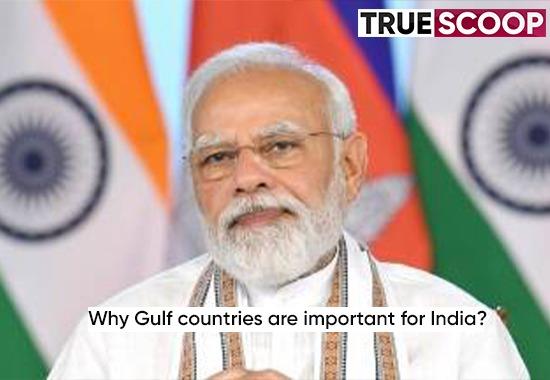 BJP has suspended its spokesperson Nupur Sharma while the Delhi unit's media chief Naveen Jindal has been expelled from the party for their anti-Prophet remarks. Critics say that the BJP has taken action against its leaders after protests by the Gulf countries. But despite this, a campaign is being run on social media to boycott Indian products in Gulf countries.
Indian Population in Gulf
A total of 89 lakh Indians live in the Gulf countries. Indians constitute 34.6% of the population in the UAE. Similarly, Indians in Saudi Arabia are 25,94,947, which is 7.5 percent of the total population. Similarly, the population of Indians in Oman is 7,81,141 which is 15.3% of the total population of the country. 10,29,861 Indians are living in Kuwait, which is 24.1% of the total population. Indians in Qatar are 7,46,550, which is 25.9% of the total population there. Indians constitute 19.2% of the total population of Bahrain. 3,26,658 Indians are living there. Similarly, 20,760 Indians live in Jordan, 18,007 in Iraq, and 8,537 in Lebanon.
Trade Partnership
UAE is the third-largest trade partner of India. In 2019-2020, India exported $28,853.6 million to the UAE, which constitutes 9.2 percent of India's total exports. Exports to Saudi Arabia account for 2 percent of the country's total exports. India exported $2,261.8 million to Oman, $1,878.2 million to Iraq, $1,286.6 million to Kuwait, $1,268.4 million to Qatar, $960.7 million to Jordan, $559.1 million to Bahrain and $204 million to Lebanon in 2019-20 was.
India imports 85 percent of its crude oil requirement. The Gulf countries have the most important role in this. Petroleum Minister Hardeep Singh Puri told Parliament in March that India needs 5 million barrels of oil per day and 60 percent of it comes from the Gulf countries. Iraq accounted for 22 percent of India's crude oil imports in 2019. Saudi Arabia had 19 percent, UAE nine percent, Nigeria eight percent, Venezuela seven percent, Kuwait five percent, the US four percent, Mexico four percent, and Iran two percent.
Business Point of view
About half of the remittances by Indians living abroad come from the five Gulf countries. UAE's share in this is 26.9 percent. Similarly, Saudi Arabia holds 11.6 percent, Qatar has 6.5 percent, Kuwait 5.5 percent, and Oman has three percent. Indians living abroad remit $80 billion every year, which is the highest in the world. In 2018, five Gulf countries accounted for more than half of it. Kerala tops the states receiving the highest remittances. But the share of Delhi, Uttar Pradesh, and Bihar has also increased rapidly in recent years.