Published On
Koffee With Karan S7: Vicky reveals that he and Katrina fight over this reason
In the recent episode of Koffee With Karan, Vicky Kaushal revealed the one reason that sparks a fight between him and his wife
Author :
Guneet kaur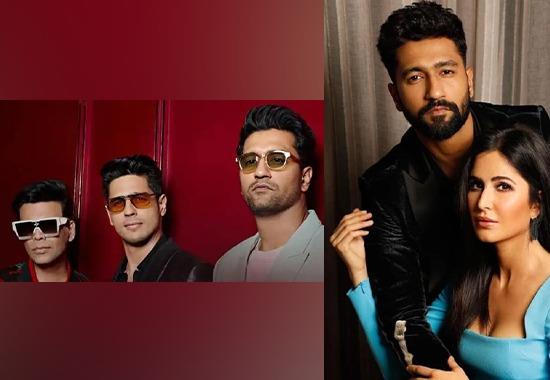 The recent episode of Koffee With Karan was a regular 'Punjabi Episode' as the hot brewing cup of coffee and the couch was graced by two that every girl has a crush on, Vicky Kaushal and Sidharth Malhotra.
Vicky Kaushal looked extremely happy as this show was the starting point of his relationship with Katrina. Later on, the actor got married to the love of his life in an intimate wedding.
During his conversation with Karan Johar, he revealed that there is only one reason over which he and his wife fight.
The loved couple of Bollywood #VICKAT fight over the closet space at their home. Vicky Kaushal revealed that Katrina, who is also known for her amazing sense of fashion has clothes amounting to a room and a half whereas his clothes can just be confined into a small cupboard which might turn into a drawer soon.
The host of the show, Karan Johar also revealed that he has been an eyewitness to this situation. He also advised Vicky Kaushal to adjust to it as Katrina is a top heroine in Bollywood. This is the one and the only reason that sparks a fight between the two of them.
The newlywed Vicky Kaushal had some interesting things to talk about his 'best half.'
He said that his wife, Katrina is a beautiful soul and the most compassionate and wisest companion he could have asked for. He also revealed that his wife grounds him and is a mirror to him.
"She states out hard facts which I need to hear at that time," he added further.
The way vicky talks about katrina with so much respect is just really heart warming🥰

I agree with sid, its absolutely lovely.#VickyKaushal #katrinakaif #vickat pic.twitter.com/4BEOAJNSh4

— Tee 🌬 (@Itsmetee7) August 17, 2022
Also, when Vicky was asked who is more romantic between him and Katrina, he replied that his wife is more romantic.
It was an episode full of revealing secrets, entertainment, deep talks, etc.