Kulhad Pizza couple leaked video AI-generated or Real? Sehaj Arora issues clarification
Sehaj Arora for the first time after the video leak incident has opened up on the controversy and explained the inside story of the Kulhad Pizza couple's leaked video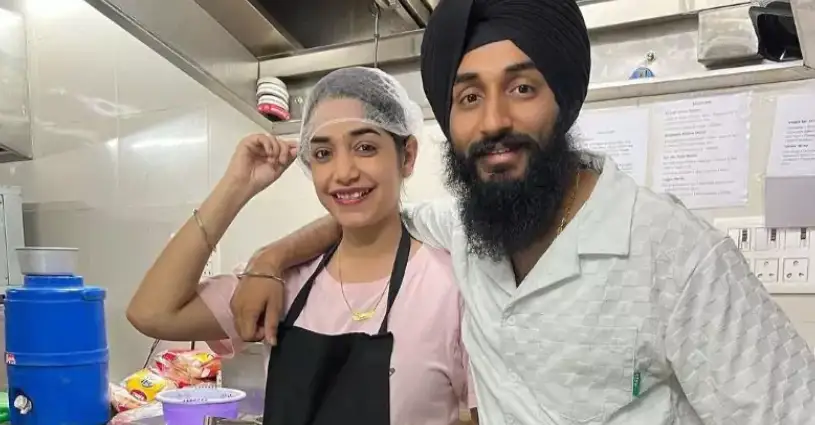 -

Jalandhar's famous couple Kulhad Pizza Couple leaked video has indeed shocked the entire India. A few months back, the Kulhad Pizza couple video spread like wildfire on social media. As a result, Sehaj Arora and Gurpreet Kaur came under the scanner and were slammed by netizens. In fact, Kulhad Pizza couple leaked private video forced Sehaj Arora to file an FIR. Following Sehaj's FIR, two to three former women employees were arrested. When leaked Kulhad Pizza couple video as in the limelight, Sehaj Arora stated that the viral clip was fake and may have been made by the use of Artificial Intelligence (AI). Sehaj Arora's AI claims backfired and people slammed him for lying in front of the media.

Now, Sehaj Arora for the first time after the video leak incident has opened up on the controversy and explained the inside story of the Kulhad Pizza couple leaked video. In a podcast for AK Talk Show, Sehaj Arora said-

"I accept I made a mistake. When the video was made no one knew us. We were not famous. The video is very old. We were newly married and so.. Yes! mistakes like these happen. But I never thought this thing will come back to haunt me like this. Because I changed the phone, data were deleted.

"I deeply regret making the video. I accept my mistake," said Sehaj Arora on the viral Kulhad Pizza couple video.

Explaining more about the leaked Kulhad Pizza Couple video, Sehaj said, "I had left using that phone. The phone was kept on the counter for Paytm Business App. I did not know that such things were present inside my old phone because I used to remain so busy after we became famous. I did not think that such kind of video was there on the phone."

"Therefore, the phone was kept at the counter and those girls recovered data from Snapchat for the past three years. After they recovered the video, things unfolded," said Sehaj Arora.
Kulhad Pizza Couple video leak case
For those who are unaware, Sehaj Arora and Gurpreet Kaur's private video leaked on social media and later it went viral. Sehaj and Gurpreet are famous for selling pizza in Kulhad in Jalandhar. Hence, Kulhad Pizza couple leaked video went viral on a massive scale.
Following this, Sehaj Arora issued a statement saying that the clip going viral was totally fake and made by using AI technology by the blackmailers. A day after that, Jalandhar Police arrested a 23-year-old woman named Soniya who turned out to be their former employee who was fired in the first week of September 2023. Apart from Soniya, another girl named Tanisha Verma was arrested.